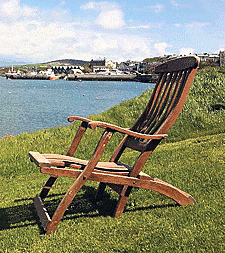 BY JACKIE KEOGH
A VERY low key and rather private tribute took place in Baltimore at 2.10pm on Thursday, May 7th – one hundred years to the day that the Lusitania sank.
On his lawn, overlooking the sea, Richard O'Flynn of Ballylinch, Baltimore, simply set out a deckchair from the Lusitania that his great grandfather, Bartholomew O'Flynn, preserved after finding it washed up on the beach at Tragumna.
Richard quietly paid his respects to the 1,200 people who died, while around the coast, thousands more did the same.
His 'Lusitania Remembered' photo, which appeared on the 'Best Photos of Baltimore' Facebook page, was shared many times by people who sought to honour those whose lives were lost when a German U-boat torpedoed the British liner, causing it to sink within minutes of having been struck on May 7th 1915.
Richard told The Southern Star that over the years, his great grandfather took great care of the deckchair, as did his grandfather, Gerald, and his son, Dominic. 'The family continue to preserve it as a mark of respect to those who lost their lives,' he explained.
The deckchair is, in many respects, a talisman for the O'Flynn family, because the sinking of the Lusitania inspired three of Bartholomew's brothers to join the British army.
Richard explained that his great granduncle Joseph O'Flynn became a surgeon rear admiral and served in both wars; Dominick O'Flynn became a captain and survived the Battle of the Somme (only to die from appendicitis on the train journey home), and Jeremiah O'Flynn was a doctor in both wars.
'They left to serve the Irish people in the British army but half way through, the Irish attitude changed and they were looked on as traitors to be fighting for Britain,' said Richard. 'They found it too difficult to ever move home, so Joseph and Jeremiah relocated their families to Australia and lived there for the rest of their days.'