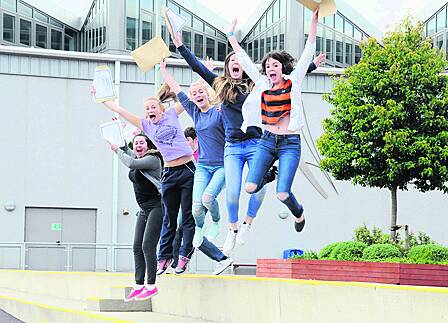 BY JACKIE KEOGH
A SKIBBEREEN student is among a handful of students nationwide who achieved maximum points in their Leaving Certificate.
Ciaran O'Donovan from Skeagh in Skibbereen was on his way to Tragumna for a celebratory dip when the principal of St Fachtna's de la Salle, David Barry, told him that the newspapers wanted to talk to him about his achievement in securing eight A1s, a total of 625 points, in the Leaving Certificate.
'I'm over the moon,' was the first thing that Ciaran said in his first interview – which was with The Southern Star. 'It feels great. In fairness, I worked quite hard over all my years of school, but coming up to the Leaving Cert I made a big effort, but I also made sure to have a social life.'
Ciaran confirmed that he would be doing Arts and Music in UCC: 'I'd like to be professional musician and singer. Banjo is my main instrument and I play traditional Irish music. I am not in a band, but I play with Comhaltas in Skibbereen.' Mr Barry congratulated Ciaran and all the students at the school who 'worked hard and reached their ability.' He said Ciaran's straight As in the Leaving Cert mirror the straight As he got in his Junior Cert. 'He is an excellent all round student and he is well respected by his peers and teachers.'
At St Fachtna's de la Salle, 22% of the students achieved over 500 points and 80% of the students were over 300 points.
Meanwhile, Stephen Gilbert, principal of Rossa College in Skibbereen said he, and the teachers, were delighted with their Leaving Cert students, of whom the overwhelming majority got the courses they wanted.
In particular, he paid tribute to Lorna Twomey who received an A1 in Higher Level Construction Studies, which places her in the top 2.7% of students nationwide.
A student in Sacred Heart Secondary School in Clonakilty also made the maximum of 625 points, with their six A1s.
In Mount St Michael's in Rosscarbery, over 25% of students achieved over 500 points – a result that the principal, Bart Kerrisk, described as being a 'fantastic' achievement for the students and the school.
This year, for the first time, 12 students from Mt St Michael's took the Leaving Certificate Applied course and it was tremendously successful with a massive 72% of students being awarded a Merit or Distinction.
The Leaving Certificate class of Coláiste Pobail Bheanntraí was particularly large this year, with 122 students sitting the exam.
Both the school principal, Kevin Healy, and the deputy principal, Denis O'Sullivan, commended the 67 male and 55 female students who worked hard to 'maximise their own potential.'
Mr Healy said: 'Great credit goes not just our high achievers, who received 600 points and 595 points, but to all of our students.'
The principal paid tribute to the excellent teachers in the school who made such a significant contribution to enabling the students achieve such fantastic outcomes in this year's Leaving Certificate results.
Meanwhile, in Schull Community College, the staff and students are celebrating the fact that 10% of the Leaving Cert group scored over 500 points, while an impressive 50% scored over 400 points.