With rain having fallen in West Cork tonight, a thaw looks likely to set in from tomorrow which may result in a risk of flooding over the next few days.
With a thaw setting in after rain, there is a continued risk of flooding over the next few days.
Update 4:10pm
Update from the HSE re services in Cork and Kerry this week:
'A joint statement from HSE services in Cork and Kerry: With HSE services in Cork and Kerry returning to normal, the HSE would like to thank the public for its support and understanding during the recent severe weather.
Most services are either now running as normal or will be fully restored very shortly. However, the disruption caused by the severe weather may have a knock-on effect for the week ahead.
Out-patient appointments at acute hospitals in Cork and Kerry will recommence tomorrow, Monday, and anyone with an appointment is asked to attend as normal. Hospitals will be in touch with those who have had appointments cancelled recently to reschedule.
Cork Kerry Community Healthcare services in primary care, disability services, services for older people and mental health will be as normal tomorrow, Monday. Appointments which had to be postponed in recent days will be rescheduled, and again we will be in touch with those affected.
In all cases, anyone with a question about an appointment can contact the person or office who made the appointment.
Understandably, we expect additional pressure on both emergency departments and hospital admissions this week. For that reason, the HSE is asking people to consider whether they really need to go to an emergency department and if there is an alternative service they can avail of including the urgent care centres at Gurranabraher (Cork city), Mallow and Bantry.
We have been working with the Gardaí, local authorities, other emergency services and other agencies, and we would like to thank all those agencies for their efforts which helped us to keep essential services running in difficult conditions.
Local authorities ensured that access to facilities was restored quickly by gritting roads leading to hospitals and other facilities, while the Defence Forces and voluntary emergency services assisted in getting staff to work, in bringing dialysis patients to hospitals and in ensuring that public health nurses were able to make urgent visits in the community.
Once again, we would like to thank the public for their support and understanding.
Communities also rallied round – for example, we were overwhelmed by offers of assistance to get staff to work in both the CUH and Farranlea Road Nursing Unit, while both staff and communities made every effort to keep in touch with older people and vulnerable members of the community.
We would also like to thank the staff who worked tirelessly ensure the impact to vulnerable patients and service users was kept to a minimum, in many cases going well above and beyond.
Updates on services, local and national will continue to be posted to www.hse.ie/weatherwarning and on Twitter @HSELive.'
Update 4:07pm
Maggie Dwyer's 'big cat', courtesy of Kilbrittain Tidy Towns on Facebook: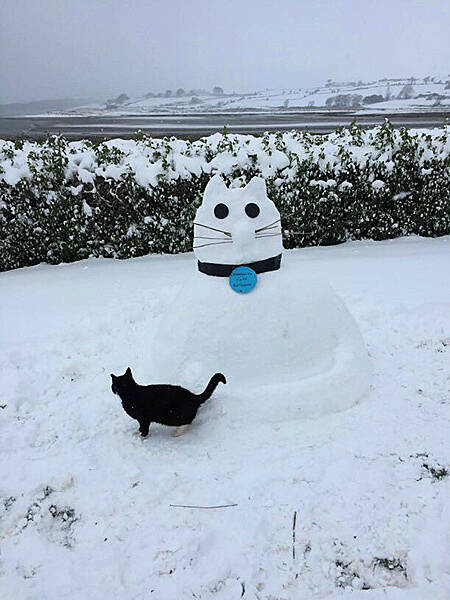 Update 11:05pm
Cork County Council road crews are endeavouring to clear the snow as quickly as possible as resources allow, over the next few days. Members of the public who are clearing footpaths or roads, working in their own estates or outside their own premises/businesses are advised to take every precaution from a health and safety aspect including in particular :
- consideration of the risks of slips and falls and traffic movements in areas
- consideration of the use of high visibility clothing at all times and appropriate footwear
- consideration of the risks of lone working which increase risks of accidents considerably
Advice from the National Emergency Co-ordination Group includes:
- No unnecessary recreational or social travel should be undertaken in areas where road clearance activities still need to be undertaken –road
- Stay away from downed power lines and report any downed power lines to ESB Networks
- Exercise extreme caution if it is necessary go outside on foot. Footpaths remain treacherous with the risk of slips, trips and falls.
- Please check on Vulnerable neighbours.
- Businesses and householders are asked to clear footpaths outside their premises.
- Watch for flooding – stay away from watercourses over the next few days as river levels will rise in some catchments.
- At a household and individual building level, melting snow will cause leaks, may pull down gutters and people should please watch out for snow sliding off roofs.
Update 6:00pm
The snow and the storm disrupted usual distribution, but we've pulled out all the stops and we're glad to report that The Southern Star is now on sale in Cork City, from Hurley's (The Pike) and in all usual outlets as far as Skibbereen. It is also available in Enniskeane, Ballineen, Dunmanway, Drimoleague, Bantry and the Mizen peninsula. It will be available in Bandon and Clonakilty from first thing tomorrow morning.
It's the best read in West Cork today ... in fact it's probably the only read! And there's even a free Weddings magazine...enjoy!
In this week's Southern Star:
IN NEWS
• Beast of the East grips the West
• Firefighters rescue dog after gorse fire marathon
• Dr calls for one-year ban on buses to discos
• Ní Riada pleads for locals' fears to be heeded
• Tour operator critical of Fastnet plan
• Contract signing brings confidence to flood-prone Clon
• War of the Buttons reunion call
MAGAZINE
• Free 28-page Weddings magazine
IN LIFE & COMMUNITY
• West Cork Hero Awards special
• Feelings are not facts
IN SPORT
• Bandon golfer takes on China
• Interview with Alan O'Connor
• Denzil Fernandes joins Cobh
• Kerry Desmond back with Bandon
Update 4:35pm
Where possible schools, colleges of further education and third level institutions will re-open on Monday, according to the Department of Education. However, decisions will be made by schools, colleges of further education and third level institutions on an individual basis depending on the circumstances and conditions in their area. As always, schools must ensure the safety of those in their care and give due consideration to this when making a decision to re-open.
The position regarding school transport services will be regularly monitored over the weekend. It is expected that Bus Éireann will be in a position to advise schools tomorrow evening on school transport routes that will not operate on Monday and schools will contact the families involved.
However, some decisions on individual schools transport routes may still not be confirmed until Monday morning given changing local conditions. Where possible, information on routes not running will also be provided on the Bus Éireann website - http://www.buseireann.ie.
Update 4:25pm
While the worst of the extreme weather has passed, Minister for Transport, Tourism and Sport, Shane Ross TD, has appealed to people to remain cautious, avoid unnecessary road travel and stay local.
Speaking from the National Emergency Co-Ordination Centre, Minister Ross said, 'I have been advised that road conditions are still treacherous in some areas. Many roads and in particular entrances to housing estates are still impassable.
'Therefore, even though the status red warming has been lifted, I would still strongly advise people to take only the most necessary of journeys. Public transport has resumed in many areas, although services are limited. Therefore, it is important for people to check their transport provider before they leave home.'
Update 4:18pm
Marie McSweeney would like to thank members of the Enniskeane Civil Defence for helping her get to work in Cope in Clonakilty yesterday. 'Not all heroes wear capes,' she told us.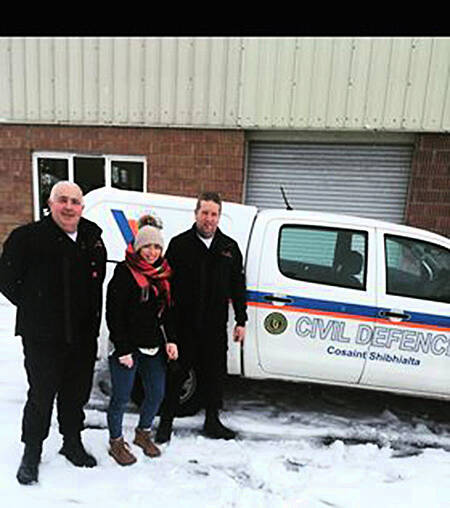 Update 4pm:
UPDATE FROM BANDON PARISH: Due to the continuing weather conditions we have some changes to our Weekend Mass Schedule: This evening, Saturday, March 3rd
6pm Vigil Mass will go ahead; 7.30pm Mass & 8.15pm Polish Mass are cancelled; A decision regarding tomorrow's Mass Schedule will be made later this evening.
Update 2:24pm:
The road from Skibbereen to Baltimore is clear and traffic is moving clearly. Several people have also posted asking if Skibbereen to Castletownshend is clear and some have responded saying they have got through, but they have advised extreme caution on the hill.
Update 2.15pm:
Skibbereen Walking Group have contacted us to advise its members that the walk on Sunday, March 4th at Mount Gabriel has been cancelled. After considering Met Éireann's advice that on Sunday the cold weather will continue through the rest of the weekend with highest temperatures during Sunday only around 2 to 4 degrees. Evelyn Cusack also said on RTÉ this morning that the weather forecast is for continuing poor conditions over the weekend, with snow melting slowly. Mount Gabriel is always quite exposed, and in these conditions so the wak has been cancelled.
Update 2pm:
Cork County Council is advising people that the Met Éireann Status Orange Weather warning is currently in place. Rain is forecasted to spread from the South today, which will start the melting process.
Cork County Council said: 'Roads staff continued salt spreading late last night and early this morning despite ongoing difficult conditions, with heavy snow falls occurring. Eleven snow ploughs, two graders and six additional salt spreaders worked continuously yesterday and in some cases through the night. Concentration has been on having all National Roads open, with ongoing ploughing and gritting treatments making most passable. The N27 to Cork Airport and N28 to Ringaskiddy, in particular, have received intensive treatment. The overnight snow has required further snow ploughing on National Roads this morning and the focus is now moving to Regional Roads.
Roads crews are also working on clearing other priority routes and towns across the county. The Council continues to ask members of the public to not make any unnecessary journeys and never assume that a road is safe.
While the thaw continues we also ask motorists to be aware that road surfaces may have hidden potholes due to the impact of this prolonged period of cold weather.
High tide passed this morning without incident. However, with due high tides and a possible early thaw there remains a significant risk of flooding in the low lying areas of Skibbereen, Bantry, Clonakilty, Midleton and Youghal. Council crews remain on standby.
The Council's 24 hour emergency line on 021 4800048 is in operation and remains so throughout the weekend.
Customers experiencing water outages should contact Irish Water on 1850278278 or consult the Irish Water website for the most up to date information. Further updates will issue in due course.'
Update 1.40pm:
Cllr Danny Collins (Ind) has done a quick recky of the roads and reported that there are complaints that roads between Schull and Ballydehob are 'dangerous.'
He said: 'There are crews out in Schull and Ballydehob clearing footpaths and any drifts at junctions.
'Bantry seems to have snowed heavier on Cousane and Durrus last night, but there are crews in Bantry town clearing footpaths. The local salter is heading out now will do town and is also going out to Durrus. 'Tide checked this morning for 5.45am high tide and no flooding. Will monitor this evening's tide again.
'Castletownbere crews out clearing footpaths and problem areas. A local salter is heading to the County bounds and the mall salter truck will be heading to Castletownbere after salting Ballydehob to Glean quarry.
'The snow plough and salter will be heading onto the N71 at Barnageehy then Kealkil and then up to Cousane, Shanlaragh then back up to Ballingeary from Kealkil.'
Update 12.45:
Irish Water has reissued its appeal to householders to conserve water. The company said that due to the extremely cold weather conditions and exceptionally high water demand, some water treatment plants in the county are struggling to keep up with supply demands.
All customers are being asked to conserve water to avoid reservoirs emptying and water pressure to homes and businesses being affected.
Customers throughout the city and county are urged to conserve water by turning off taps in their homes and unoccupied buildings, taking showers instead of baths and avoiding unnecessary water usage.
Irish Water working in partnership with Cork County Council and Cork City Council thanks customers for their patience while we work to resolve all issues due to the extremely cold weather conditions and would like to apologise to customers for any inconvenience caused. We wish to reassure customers that work and repairs are ongoing and are being completed as quickly as possible. If alternative water supplies are needed in any areas, they will be mobilised when it is safe to do so.
Once further information is available we will issue another update. Updates will also be posted to the supply and service section of Irish Water's website at www.water.ie/water-supply/supply-and-service-update/
Update 11:15am
In the aftermath of Storm Emma and the heavy snowfalls around the country, the Irish Coast Guard and the RNLI have issued a joint call for people to exercise caution and remain vigilant around the coast and near rivers. High tides, onshore easterly winds and a sharp rise in river levels could pose a significant risk to public safety.
Although river levels have been relatively low, a quick thaw coupled with heavy rainfall could result in a surge in water levels without warning. High tides assisted by non prevailing winds as forecasted for the East coast may result in flooding and extreme danger on exposed piers and coastlines. The public should exercise caution and stay away from piers, harbours, seawalls and riverbanks.
Update 10:37am
Motorists heading to Cork city this morning reporting roads from Skibbereen north are relatively clear, although caution is advised especially north of Clonakilty, into Bandon and onwards to Innishannon. Again, only essential journeys should be attempted, and bear in mind all local roads are still treacherous.
Update 10.10am
Cork County Council reminds Irish Water customers that those experiencing water outages should contact 1850 278 278 @IWCare or http://www.water.ie for the most up to date information
Update 9:50am
To all our friends, supporters and neighbours, Cope Foundation needs your help today! All of the people we support are safe and warm in their houses all across Cork city and county. However, some Cope Foundation staff are finding it difficult to get home and also to make it to their place of work. Some of our dedicated, wonderful staff have been working since Wednesday! They have been away from their own homes and families all this time so we need to get them home! If you, or someone you know, has a 4x4 (or other vehicle that is safe and suitable for this weather) would like to help, please contact us on 086 3345518 (Derval). We have always been so grateful for the support of the Cork community and we need it now more than ever. Thank you!
Update 9:30am
Skibbereen: Some photos from Skibbereen today, thsnks to Niall O'Driscoll of Star staff:
Just one stall in the farmers' market so far - Pina Lazara.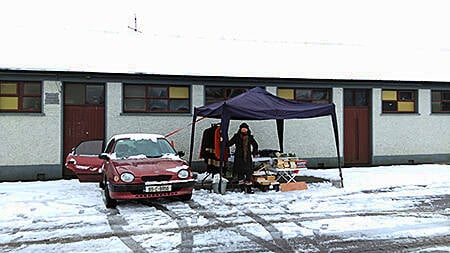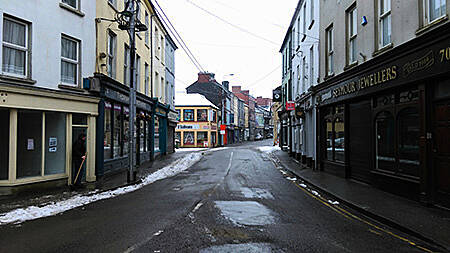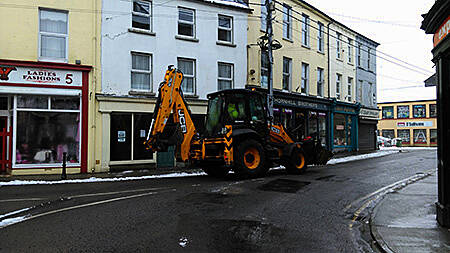 Update 9:21am
Baltimore: Roads very slippy under foot, very little traffic still out and about.
Update 9:17am
Caheragh: Roads icy but slow thaw appears to be setting in.
Update 9:15am
Lough Hyne: There is a fine rainy mist this morning, so it should start to thaw later and road conditions may improve if this happens.
Update 9:12am
Skibbereen: Conditions have remained relatively unchanged overnight. Snow still lying on undisturbed areas with slush in places on roads and footpaths. Temperature is approximately 3 degrees Celsius and while there doesn't seem to have been a major freeze overnight in the town centre, caution is still advised for motorists and pedestrians as there is a risk of black ice and slippery conditions where slush has built up and snow has been compacted. The majority of shops and businesses are expected to open today, but its advisable to check in advance before making any unnecessary journeys
---
Update 9:10am
Met Eireann has issued a level Orange weather warning for Cork, valid from 6am until 9pm, meaning there are still chances of snowfall throughout the day. However, with temperatures set to rise above freezing in Munster during the day, a thaw is likely to set in. Gardaí and Met Eireann are still warning, however, that overnight low temperatures have meant the roads are icy and even treacherous in some areas, so only essential journeys should be attempted this morning, if at all.
Update 8:44pm
Cork University Hospital has appealled to the public for help in transporting staff & patients to and from the hospital over the coming days. Anyone with a 4 x 4 vehicle who can help is asked to contact them on 0871954839.

— Fergal Bowers (@FergalBowers) March 2, 2018
Update 8:37pm:
51 staff slept over at Clonakilty Community Hospital last night to ensure continuous care for our most vulnerable and elderly citizens. Another example of the countless sacrifices made by staff, managers and emergency personnel during this difficult period across the country. pic.twitter.com/62HnXV7eum

— Jim Daly (@jimdalytd) March 2, 2018
Update 8:30pm:
A great offer for people in Bandon area:
If you know of any elderly or vulnerable person in the Bandon area that may need assistance, please drop me a message and I'll be happy to check in with them. #Bandon

— Catherine O'Donoghue (@CaODonoghue) March 2, 2018
---
Update 8:25pm
CORK COUNTY COUNCIL UPDATE: Cork County Council has made significant progress in clearing National Roads in the county today, however there are some locations on National Roads where packed ice remains. With the continuing snow falls across the county and the forecast of sub zero temperatures tonight, the Council cannot give any assurances on any of the National Road network being free of ice. Conditions continue to be difficult and the Council would again ask members of the public to not make any unnecessary journeys, never assume that a road is safe and if they have to use the National Road network to assume that it has not been treated for ice.
Update 8:07pm
Shane McCarthy with the snowman he built in Drimoleague with his niece Niamh.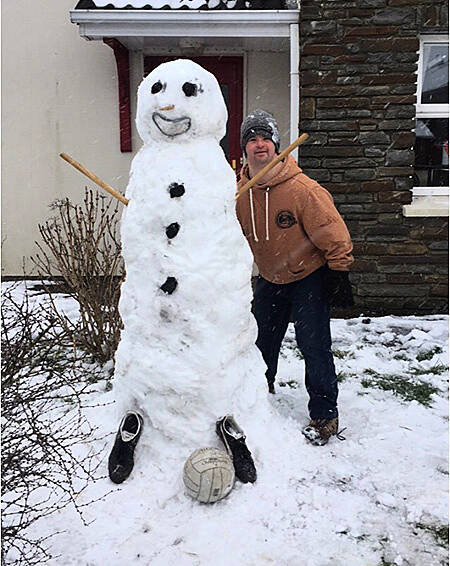 Update 7:20pm
High tide passed this evening without incident. However, due high tides, forecasted weather conditions and with a possible early thaw there is a significant risk of flooding in the low lying areas of Skibbereen, Bantry and Clonakilty, on Saturday morning (approximately 6am). Council crews remain on standby.

Update 7:08pm
'This is my own beast from the east, Scampman, after an ecstatic frolic in the snow.' (Photo: Debbie Barnes)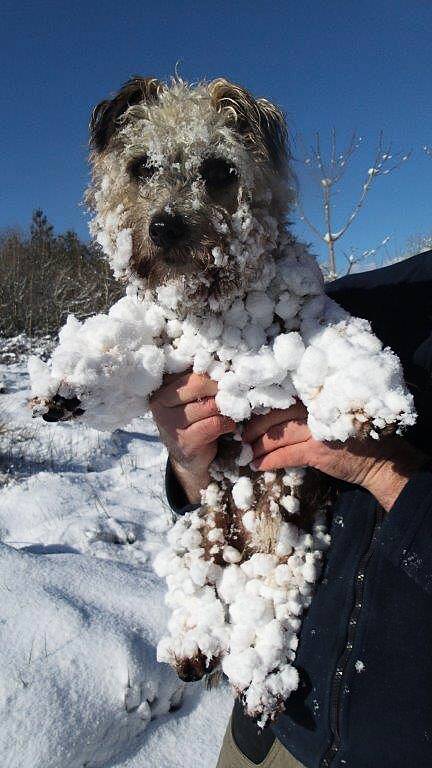 Update 6.46pm:
Yasmine and Leila O'Driscoll from Skibbereen proudly displaying their snowman-building skills this afternoon.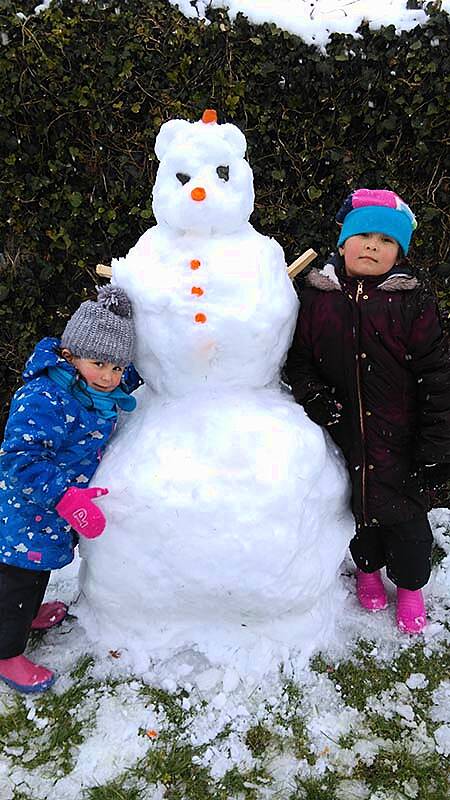 Update 6:09pm
Andrea & Grace Tobin jumping with joy in Courtmacsherry at the lovely snowy weather. (Photo: James Tobin)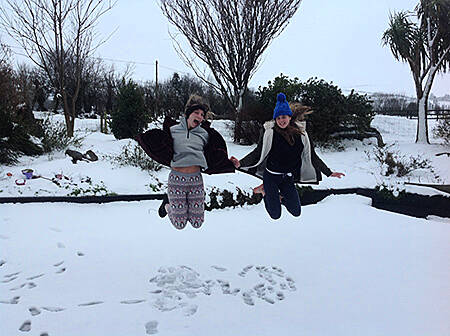 Update 6.02pm:
"The Beast" of Newcestown by Aishling O'Driscoll.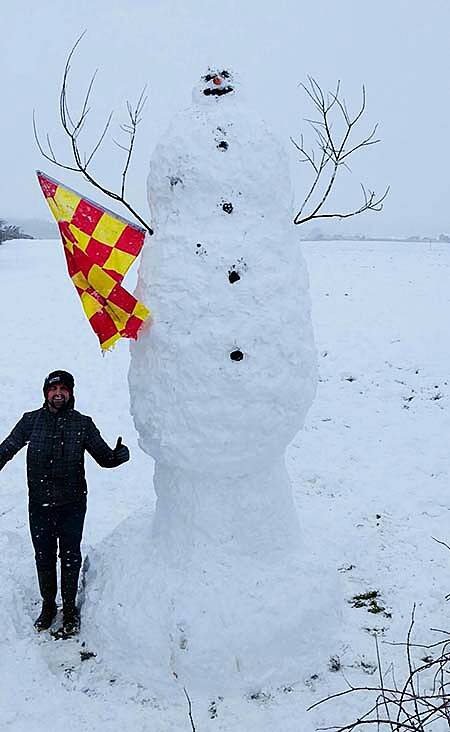 Update 6pm:
Some nice photos from Glandore and The Warren strand today sent to us by Anne Kelleher in Rosscarbery: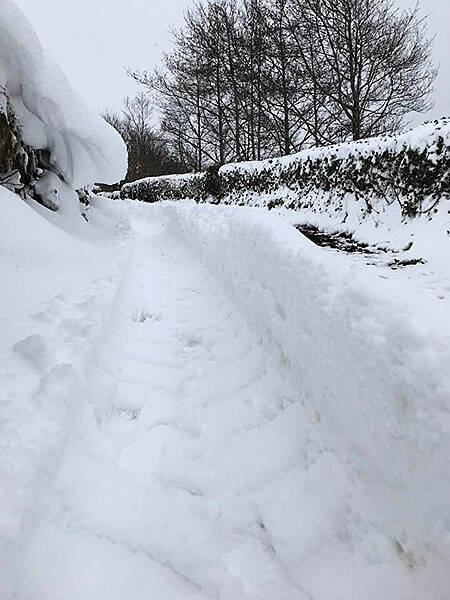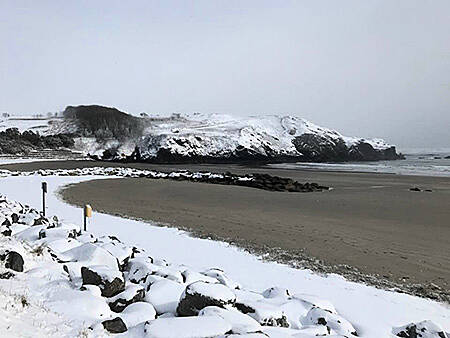 Update 5.50pm:
Light showers of wet snow and sleet continue in Skibbereen. Despite this, driving conditions through the town have continued to improve throughout the day. Similarly footpaths on all major streets are relatively clear but caution is still advised and both pedestrians and drivers should be wary of inclines, areas of compacted snow and where slush has built up leading to slippery conditions. Now that night-time is approaching, temperatures are once again expected to drop and as all road surfaces and footpaths are very wet, the risk of icy conditions is high. Caution is advised and all unnecessary journeys should be avoided.
Update 5:05pm:
Creating a snow angel in Ballydehob. (Photo: Andy Gibson)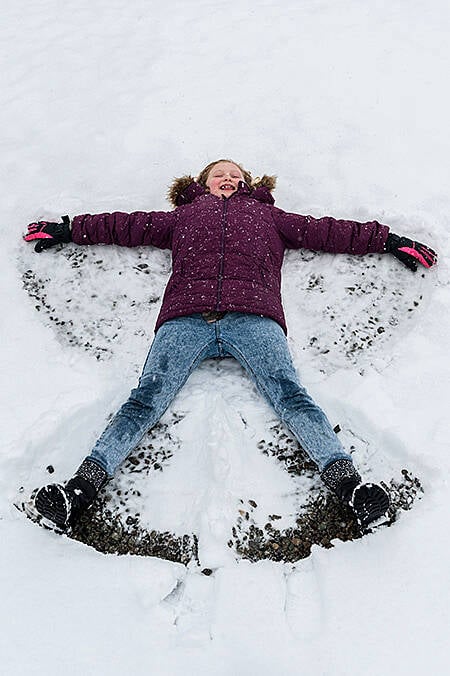 Upate 5pm:
Please note ALL Cork County Library & Arts Service will be CLOSED tomorrow Saturday March 3rd due to severe weather conditions. Cork County Council apologises for any inconvenience to library users. They advise that books can be renewed online and that e-books, e-magazines and a number of other resources are accessible online 24/7.
Update 4.54pm:
Cork Country Council have released a Code Orange warning: Snow accumulations continuing to increase. Valid from 16:01 Friday 2-March-2018 until 09:00 Saturday 3-March-2018
Update 4.44pm:
Final day in US (weather permitting). Received this inspiring picture from Clonakilty of a farmer helping the emergency services. Hope everyone is heeding the safety advice and taking care! pic.twitter.com/B4R6cvF4TI

— Michael Creed TD (@creedcnw) March 2, 2018
A reminder to our readers that they can purchase a digital edition of this week's paper to read on their computer, tablet or phone for only €1.80 here.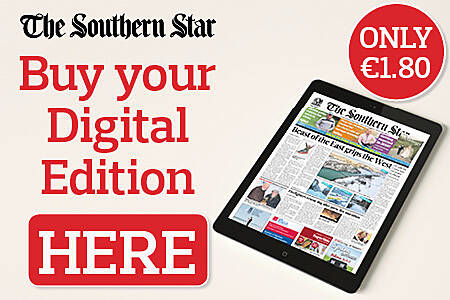 Update 2.50pm:
Update 2:38pm:
Bere Island finally got snow today, as these photos from our correspondent Helen Riddell (pictured) shows. She reports that it has started snowing heavily again now.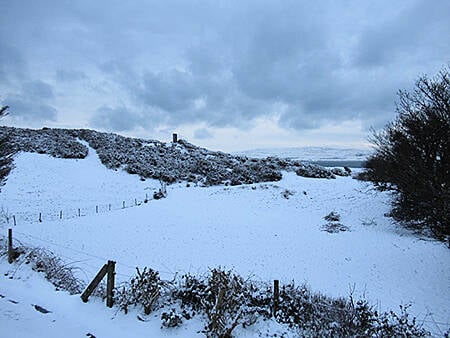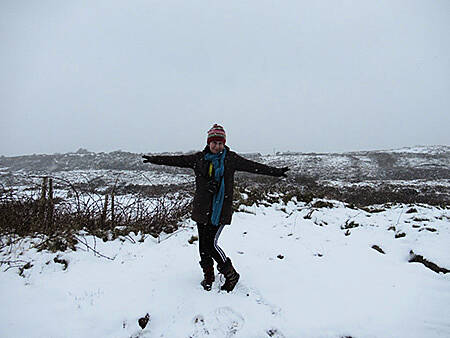 Update 2:35pm
Lovely pic of the snow this morning on a farm outside Skibbereen. (Photos: Peggy Collins)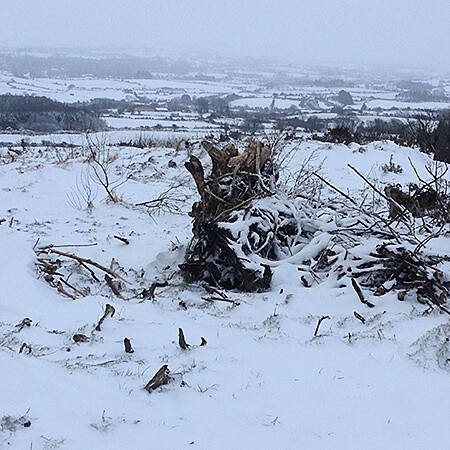 Update 2:33pm
A number of farmers reporting frozen pipes to buldings and finding access to animals difficult today.
Update 2:27pm
Some lovely shots of Macroom taken early this morning (very early!) by Macroom photographer John Delea: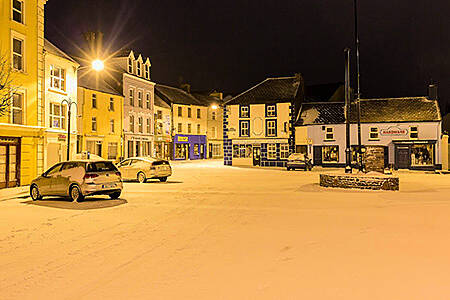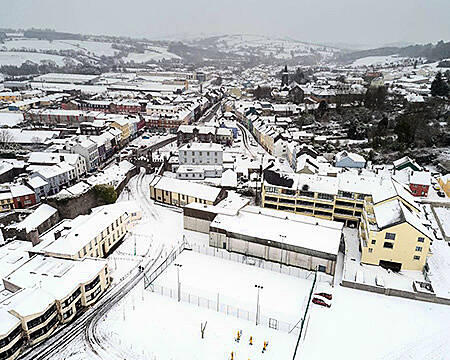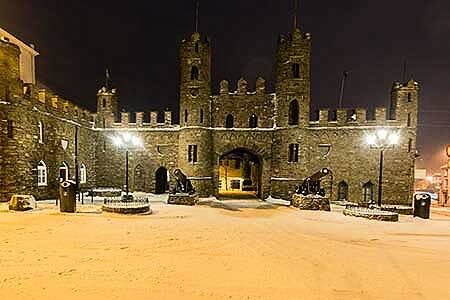 Update 2.23pm:
Update 2:20pm
Irish Water is advising customers in Co Cork that due to the extremely cold weather conditions and exceptionally high water demand, some water treatment plants in the county are struggling to keep up with supply demands.
Customers are being asked to conserve water to avoid reservoirs emptying and water pressure to homes and businesses being affected.
Some areas in West Cork are also experiencing low pressure and/or loss of supply including Allihies, Coolineagh and parts of Baltimore.
Customers throughout the county are urged to conserve water by not running taps unnecessarily, taking showers instead of baths and to refrain from using dishwashers and washing machines.
Irish Water working in partnership with Cork County Council would like to apologise to customers for the inconvenience this is causing and assures customers that repairs will be completed as soon as it is safe to do so once the current red alert has been lifted.
Updates will also be posted to the supply and service section of Irish Water's website at www.water.ie/water-supply/supply-and-service-update/
Update 2.19pm:
Statement from the Uilleann Arts Centre: As it is still snowing we have had to make the decision to POSTPONE the opening of both Joanna Kidney's Metamurmuration and David Quinn Paintings until a later date, we hope that it won't be too long! Unfortunately due to the weather David has been unable to travel to West Cork. Please let anyone that might be interested in coming know about this change in plans. Image: Skibbereen as viewed by Uillinn, photograph by: Donagh Carey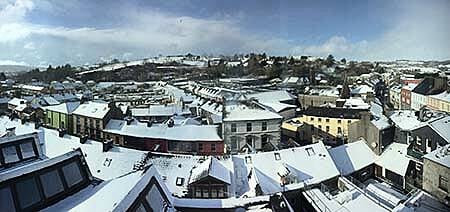 Update 2:12pm
The ESB is reporting power outages in Carrigaline and Kinsale and saying they hope they will get to them as soon as possible. Such faults would normally be easier to repair but because of drifting snow and icy roads, access is proving more difficult. For more details, see our story on our website or check powercheck.ie
---
Update 1.55pm:
Statement from Bus Éireann:
No Bus Éireann services will operate for the remainder of Friday, March 2 due to ongoing severe weather conditions and extremely challenging road conditions. This includes all city and town services, the Expressway intercity network, and Eurolines services to the UK.
We anticipate that we may be able to resume a level of services in some parts of the country tomorrow morning, dependent on the local road conditions.
It is our aim to operate some services on the Expressway inter-city network, and possibly a level of regional city and town services, in less affected areas.
However, there will not be any kind of full service schedule tomorrow due to difficult and dangerous road conditions in many parts of the country. We apologise for the inconvenience but saftey of staff and customers is paramount.
We will be providing updates from early morning tomorrow to local media and on www.buseireann.ie or @buseireann or @expresswayIRE on Twitter.
Update 1.24pm:
Ryan O'Neill, TJ O'Sullivan, Kevin O'Brien, Tristan O'Sullivan and Clarice O'Sullivan in Letter Ballydehob.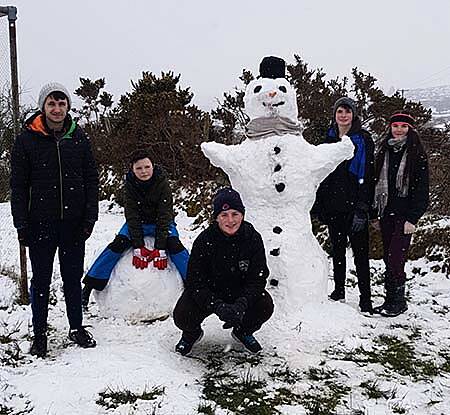 Update 12.52pm:
Despite continuing light snowfall, conditions in Skibbereen town have improved slightly since earlier this morning, with a slight thaw taking place. Some traffic is passing through the town centre, but drivers are still advised to take great care as some parts are still slippery due to build-up of slush and compacted snow. Similarly with footpaths, they are generally improving, but with some places still treacherous where the snow has been compacted and the thaw has yet to take effect.
While some local convenience shops, foodstores, hostelries and a pharmacy are now open in a limited capacity in Skibbereen, most businesses remain closed. Those that are open are expected to close early again this evening.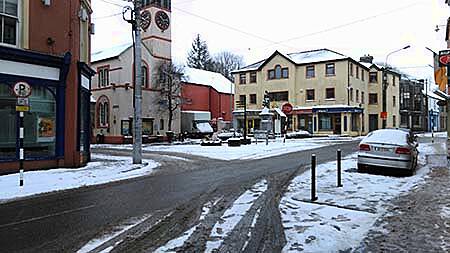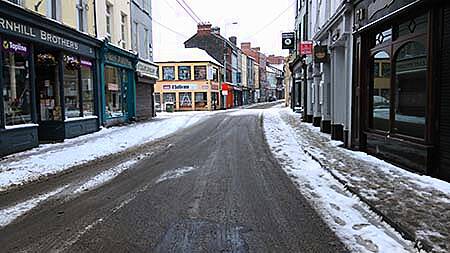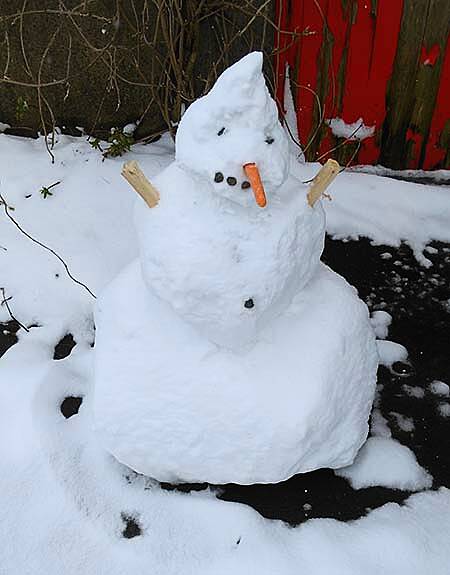 Update 12.48pm:
Statement from Carbery GAA: Due to weather conditions and the health and safety of players, mentors, supporters and referees all games under the Carbery GAA Board have been postponed this weekend
Update 12.21pm:
Saoirse & Libby enjoying the snow in Skibbereen. Photo credit: Claire Tobin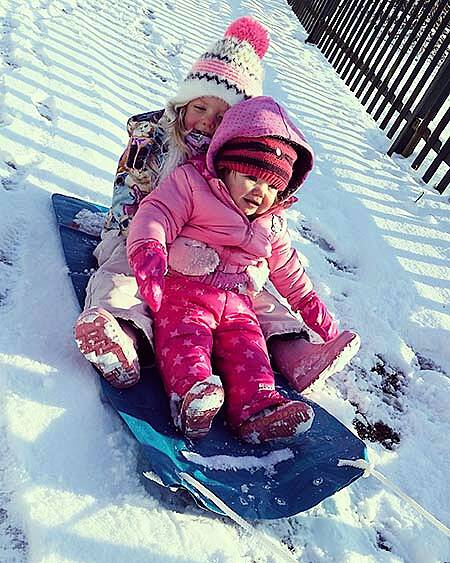 Update 12.19pm:
Muskerry GAA have announced that due to the poor weather conditions all games in the Muskerry Division are cancelled this weekend.
Update 12.17pm:
Risk of flooding:
Due high tides, forecasted weather conditions and with possible early thaw there is a significant risk of flooding in the low lying areas of Skibbereen, Bantry, Clonakilty, Midleton & Youghal this evening (approx 6pm) & Saturday morning (approximately 6am) #StormEmma pic.twitter.com/1PzQ04gu23

— Cork County Council (@Corkcoco) March 2, 2018
Update 12.13pm:
Reports coming from Ballydehob that there were 3 inches of snow last night and temperatures remain around zero, with the sun attempting to make an appearance. It's currently snowing quite heavily.
Update 11:49am:
FROM BARRYROE CO-OP:
Due to extreme weather conditions and the safety of our staff all Barryroe co-op outlets will remain closed today Friday. Hope to see you all tomorrow Saturday.
Update 11:44am:
This ambulance got stuck overnight in Castletownshend after answering an emergency call. (Photo: Anne Minihane)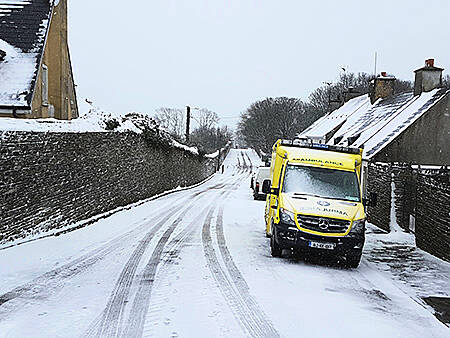 Update 11.39am:
Skibbereen Medical Centre will remain closed today.
Due to extreme weather conditions and the safety of our staff all Barryroe co-op outlets will remain closed today Friday.
Update 11:38am:
FROM CORK COUNTY COUNCIL: Roads staff have commenced snow clearance with snow ploughs and road graders. National Roads are a priority however conditions are very difficult and are exacerbated by the continuing snowfall. The Council continues to ask members of the public to not travel. It will take some time to have roads open again.
High tide passed this morning without incident. However, due high tides, forecasted weather conditions and possible early thaw, there is a significant risk of flooding in the low lying areas of Skibbereen, Bantry and Clonakilty, this evening (approximately 6pm) and Saturday morning (approximately 6am).
Customers experiencing water outages should contact Irish Water on 1850278278 or consult the Irish Water website for the most up to date information.
Update 11:36am
Rehab People of the Year Awards Postponed due to Adverse Weather Conditions: The 43rd People of the Year awards, which was scheduled for tomorrow Saturday March 3rd at the Mansion House, has been postponed due to the unprecedented weather event. The awards were due to be broadcast live on RTÉ One at 9:45pm.
Update 11:29am
Gardai checking out the N71 this morning:
Update: 11:26am
Fire services attended a fire in Gougane Barra overnight:
Update 11:21am
This photo of the tunnel between Glengarriff and Kenmare, by Gerard Deasy, shows an icicle hanging from the roof.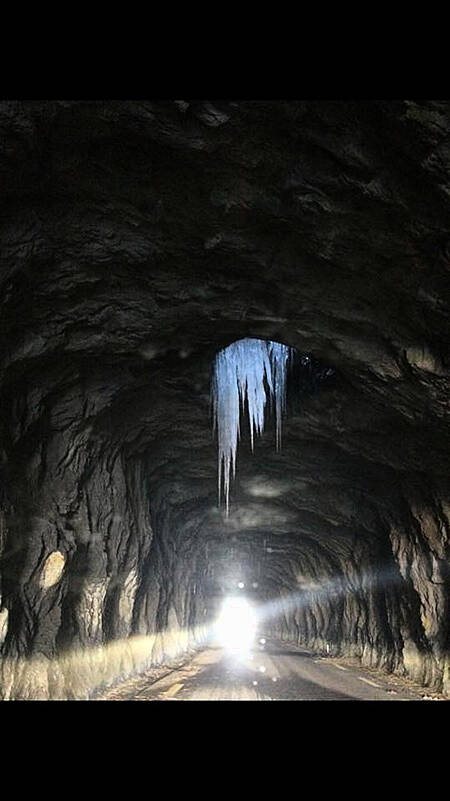 Update 11:08am
Health care assistant Ciara Tooher gets a lift to work from Pat Bob's tractor in Schull yesterday. The HSE has thanked the staff of its hospitals around West Cork for their dedication in getting to work, after 51 staff slept overnight in Clonakilty Community Hospital.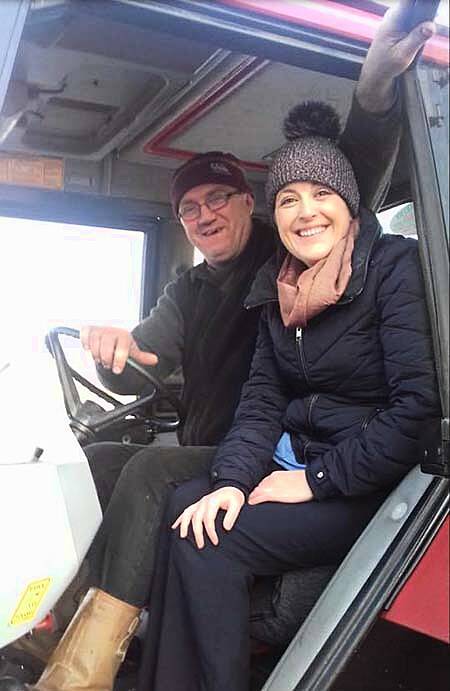 Update: 10:21am
Some local shops are reported to be running low on supplies and some farmers are travelling to major towns - in 4x4s or tractors where possible - to stock up on milk, bread etc for neighbours. Timoleague area is particularly badly hit as are other areas outside Clonakilty and Bandon.
Update 10:15am
The HSE is reporting that 51 staff slept at Clonakilty Community Hospital yesterday and last night, having gotten there thanks to the efforts of volunteers and the voluntary defence services. Some staff and management have been on site since Tuesday evening.
Update 10:10am
Rosscarbery: Continous snowfall after several centimetres having fallen overnight. Roads very quiet and nobody appears to be on the move.
Macroom: Several centimetres accumulated overnight and it is snowing lightiy now but snow still sticking. Snow ploughs were out last night clearing main roads to Cork city.
Update 10:09am
Gardaí in West Cork are reminding people to check on neighbours and elderly friends today and tomorrow if they can, as food and fuel supplies may start to run out.
Although overall the aftermath of Storm Emma has been relatively positive, there is a fear that the cold spell may last longer than expected, according to Sgt Ian O'Callaghan of Bandon Garda Station.
Updating The Southern Star this morning, Sgt O'Callaghan said that there were no reports of any accidents or major incidents in the Cork West division overnight. However, almost all areas in the region have now been covered in a blanket of snow, while some areas in north Cork had escaped until the early hours of this morning, including parts of Macroom and further north.
'The only places that may have escaped are well out on the peninsulas where some areas just got a scattering of snow on high ground,' he added. 'It appears that everyone has been heeding the advice about not venturing out, which is great, but we would still urge everyone to keep an eye on vulnerable neighbours, and to try and make some contact with them,' he said. 'It may be Sunday now before the real thaw, so food and fuel may become something of an issue for some,' he said.
'Many people stocked up on fuel before Christmas, and may be running out of domestic oil around now, so bear that in mind. Also, a lot of rural shops won't be open today and many of the larger supermarkets aren't making a call on it until later, so food supplies may be an issue for some older people.'
He said people should be particularly aware of neighbours who might be living in isolated areas of West Cork, and try to contact them to check that they have water and heat.
Sgt O'Callaghan added that while national primary roads are passable because they have been cleared or treated, all secondary and lesser roads are treacherous and the public should not be tempted to drive on them.
Update 9.50am:
Update 9.25am: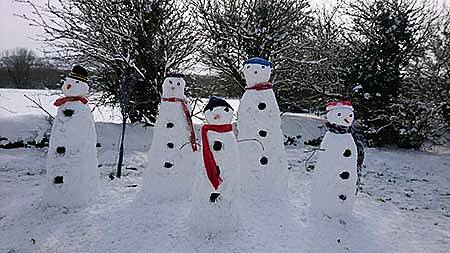 The Finn family made some impressive snowmen in Clonakilty! Picture: Shirley Finn.
Update 9:20am
While Storm Emma has passed without leaving her full force on the south west coast, there were still significant accumulations of snow in many areas and the low temperatures have left roads treacherous. Here are reports from our correspondents around the region:
Baltimore: The snowfall overnight was not dramatic, an extra inch or so on top of yesterday's, which had begun to thaw. There is now no wind to speak of, but it is snowing again, albeit lightly. One or two cars on the road but otherwise, not a soul stirring. Our correspondent adds: 'Some people seem even disappointed that Storm Emma was not so fierce, given the level of warning. And I've never seen so many people concerned about feeding birds. It has become a pastime for many. A distraction, perhaps?! It's 1 degree, but it feels like -5 with the wind chill.'
Caheragh: A few more centimetres of snow fell last night, but nothing substantial. However, the roads appear very icy and light snow is falling gently this morning, as sleet in some instances. Practically no traffic on the roads. No sign of anyone venturing outside.
Glandore: A few inches of snow appears to have fallen and it is currently still snowing. Lough Hyne: Snow, but no blizzard conditions, reported overnight. Roads are still covered in snow but icy too. No traffic on the roads.
Castlehaven: About 5cm of snow fell overnight and it's snowing again now. No wind or blizzards reported overnight. Roads are still covered in snow with ice underneath so no traffic on the roads.
Skibbereen: A light covering of snow this morning on top of earlier snow. Paths slippery underfoot with concealed and compacted ice making them very dangerous. A light snowfall currently.
Timoleague: About an inch of snow fell overnight but just walls of sleet falling this morning. Roads are still mainly impassable unless in a 4x4 or tractor.
Drimoleague: New layer of 2-3 inches of snow this morning and it's still snowing. Icy conditions underfoot for the few people venturing out.
Newcestown: It snowed heavily last night and the roads are covered again, with up to 3cm of snow. It is currently snowing again this morning with light winds. No sign of traffic on the roads yet.
---
Update 9:24pm
Statement just issued from the National Emergency Co-Ordination Group
'Met Eireann has extended the RED level Warning for Munster and Leinster until 6 pm on Friday evening, 2 March 2018.
The NECG's advice for people in areas affected is to stay in shelter until RED warning relating to blizzard conditions expire and conditions improve.
Situation is being reviewed continuously and warning levels will be updated on the basis of meteorological information.'
Update 9:14pm
Snow falling heavily in Skibbereen now
Lots of snow falling now in #Skibbereen but winds are not too strong yet. #StormEmma pic.twitter.com/9XBewbfakL

— The Southern Star (@SouthernStarIRL) March 1, 2018
Update 8:51pm
Lovely photo of the Cow up a Tree, bronze sculpture, 1999 by John Kelly which was first exhibited on the Champs Elysee in 1999 and came to West Cork via Cork city. Now it's at South Reen near Tragumna, where it is currently coated in snow.
(Photo: Richard Bradburn)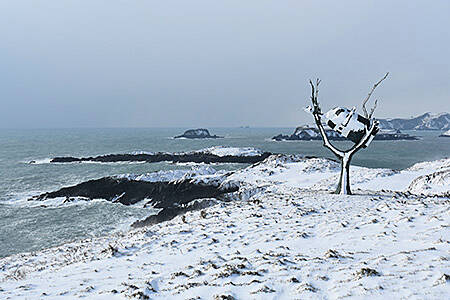 Update 8:43pm
Stark picture from the gardaí showing how conditions are so different in just a 20km stretch
Update 7:35pm
The Met Office has extended its Red Alert for Leinster and Munster to 6pm on Friday and suggests that up to 1m of snow may fall in Leinster with heavy snowfalls also due in Munster throughout tonight and tomorrow.
Update 6:42pm
Some more lovely photos sent to us by readers this evening:
These horses were spotted in Castlehaven this morning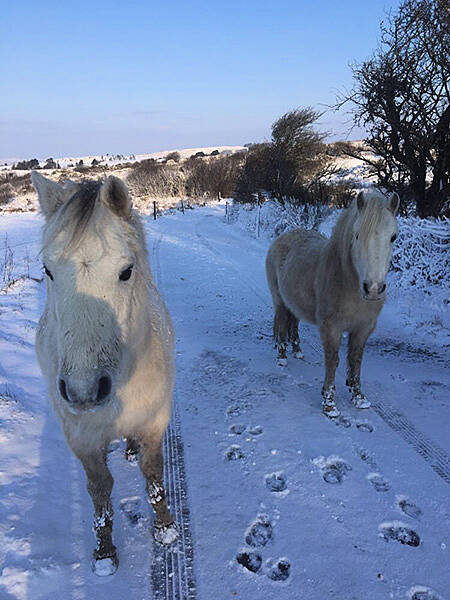 This car was abandoned last night by a Castletownshend owner who couldn't make the last part of their journey home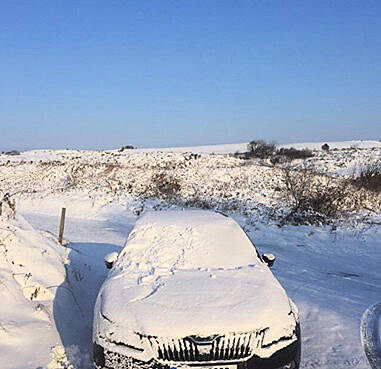 Lovey Lough Hyne as seen from a snowy hill overlooking the West Cork landmark

Update 6:39pm
Met Eireann's Eveyln Cusack has just outlined that areas of West Cork, other parts of Munster and Leinster and especially Dublin, will be worst hit when Storm Emma strikes. The storm is currently moving from France into Wales and is expected to make landfall in Ireland over the next two to three hours.
Update 5.25pm:
Snow-covered Castletownshend by Anne Minihane.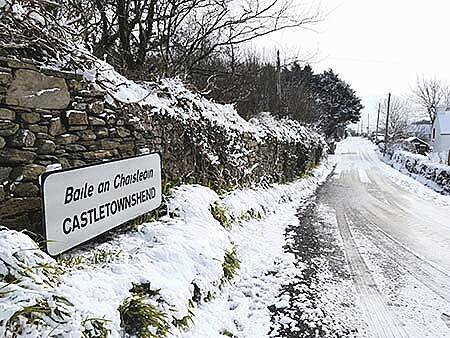 Maid of Erin in Skibbereen covered in a blanket of snow. Image: Gráinne O' Driscoll.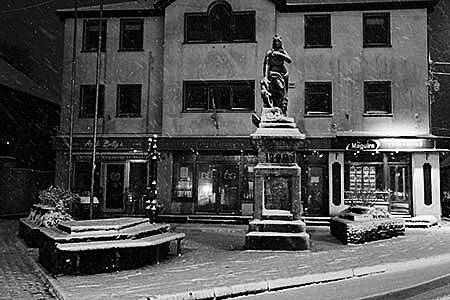 Update 5:02pm
Ryanair has just issued this statement:
Thurs 1st March: Due to continuing adverse weather conditions, all flights operations to/from Dublin, Cork, Kerry, Knock & Shannon Airports have now ceased for today (1st March). All affected customers have been notified of their options by email / SMS text message. Fri 2nd March: All flights scheduled to/from Dublin, Cork, Kerry, Knock & Shannon Airports on Friday 2nd March have been cancelled. All affected customers have been notified of their options by email / SMS text message.
Update 4:39pm
Lovely shot of frozen 'tide' at Ballycrovane on the Beara peninsula from photographer John Eagle today.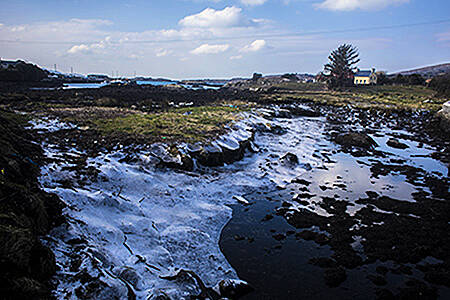 Update 4.17pm:
Fun in Ballinspittle today. Photo: Ciara Pearmain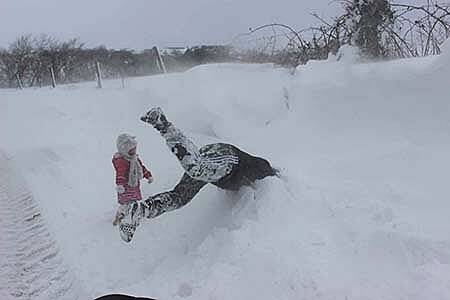 Update 3:43pm
Snow starting to fall again in Skibbereen area and the wind is definitely picking up.
Update 3.39pm:
Shane and Colin Sexton, Joe Hughes and Tom O'Donovan with Clonakilty's first mobile snowman. Image: Steve Larkin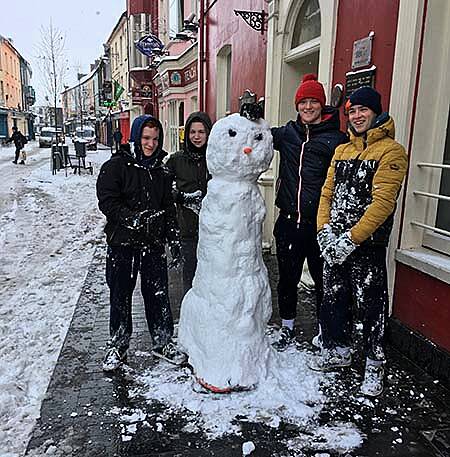 Update 3:34pm
Cork West Civil Defence have said they are working through the inclement weather:
Assisting with home help for the elderly in Skibbereen
Transporting CoAction personell home
Transporting Dialysis patients from West Cork to Cuh and back to West Cork
Assisting gardai in their duties
Assisting Public Health Nurses to get to patients in inaccessible areas
Transporting Skibbereen hospital staff to and from work

Updates are on their Facebook page: Cork West Civil Defence
Update 3.02pm:
Cork Aiport has closed, likely until Saturday.
News: @CorkAirport is closed and normal operations are not expected to resume until Saturday morning next. pic.twitter.com/P33BubvbNF

— Cork Airport (@CorkAirport) March 1, 2018
Update 2.50pm:
A reminder to be careful on the roads:
Kinsale to cork this morning watch the @Buseireann pic.twitter.com/ZAOi6bZOjY

— Hattitude (@celestinemccoy) February 28, 2018
<