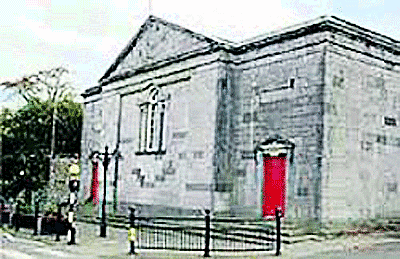 BY
JACKIE KEOGH
THE director general of the Law Society of Ireland will be making the case for the retention of Skibbereen's courthouse when he meets the Minister for Justice this week.
Ken Murphy confirmed to The Southern Star, when he visited Skibbereen Courthouse last week, that he and the president of the Law Society, Kevin O'Higgins, would be making strong representations to Minister Frances Fitzgerald to retain the courthouse that is slated for closure by the Courts Service.
Mr Murphy said: 'The Courts Service campaign of closures of court venues all over the country has been deeply damaging to the fabric of the justice system. The rationalisation has ceased to be rational and must end now with the maintenance of Skibbereen as an historic and essential court-sitting venue.'
Mr O'Higgins, the president of the Law Society, also travelled to Skibbereen to meet with Colette McCarthy, president of the West Cork Bar Association and its members at a meal and meeting at Liss Ard House.
Mr O'Higgins said: 'We have already raised this issue with the minister and the Courts Service board. In addition, we have made a very detailed submission as part of our efforts to stop the continuous closure of courts.
'We are not just talking about Dublin, but the closure of courts throughout the country.
'To date, there have been 77 closures since 2008, and we believe for justice to be delivered it needs to be delivered locally.'
Colette McCarthy described Skibbereen Courthouse as being 'a vital service to the people of Skibbereen, the surrounding areas and the islands.
'We need to do everything possible to stop the further erosion of services in rural Ireland,' she said.