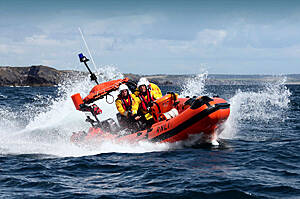 By Connor Lynch
THE Lifeboat Operations Manager for Union Hall RNLI, John Kelleher, has called on the public to 'raise the alarm' if they think someone is in trouble in the water.
The comment came after the Union Hall lifeboat crew was called out last night when a member of the public called the coastguard after seeing a flare in the West Galley Head area. Valentia Coast Guard tasked Union Hall RNLI at 10.15pm and the lifeboat launched seven minutes later.
The search, aided by the Rescue 117 Coast Guard Helicopter and Castlefreke Coast Guard Unit, ended at 12.50am as nothing was found. The conditions at the time were calm with good visibility.
'The call from the member of the public was a genuine as the person had spotted a flare and feared someone was in trouble,' said Mr Kelleher.
He went on to say that 'people should contact the Coast Guard in advance if they are planning to set off flares or similar items in a non-emergency.'