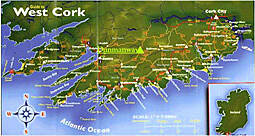 BY JACKIE KEOGH
FUNDING for the six non-Gaeltacht islands of West Cork – namely Bere, Sherkin, Dursey, Whiddy, Heir and Long Island – has been secured following a late-breaking announcement that their community development offices will remain open in 2015.
Before going to press, South West Fine Gael TD, Noel Harrington, said he was relieved that the development offices would be able to continue to serve the islands, not just in West Cork, but also in the three other non-Gaeltacht islands of Inishbofin, Inishturk and Clare Island.
He said Joe McHugh, TD, the Minister of State at the Department of Arts, Heritage and the Gaeltacht, confirmed the news to the islands' federation, Comhdháil Oileáin na hÉireann, at a meeting in Galway on Tuesday night.
Mr Harrington – who brought Minister McHugh to Sherkin Island and Bere Island before Christmas – said he was pleased that the minister was able to see 'first hand' how these offices allow island communities to work on creating a sustainable future.
The TD said the recent discussions about safeguarding the future of these islands involved, not only the Department of Arts, Heritage and the Gaeltacht, but also the Department of Environment and Local Government, and Comhdháil Oileáin na hÉireann.
'These departments,' he added, 'are currently examining ways of establishing structures to support the non-Gaeltacht islands in the mid-to-long term.
'In this regard, it has been agreed that essential funding will be continued during 2015 so as to give space to achieve a longer-term solution. And I am happy to report that this long solution will involve extensive consultation with the island communities.'