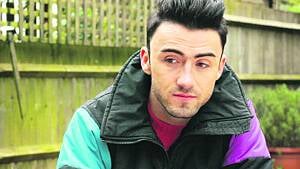 By Kieran O'Mahony
CORK'S answer to Zayn Malik touches down in Trabolgan this weekend after an eventful week in which Jamie Searls, from Kinsale thought it was curtains for him in tribute band, Only One Direction.
Jamie was worried when news broke last week that heartthrob Zayn announced he was leaving the multi-million selling boyband. However Jamie's future in the band has been secured after their management confirmed that they will remain as a five piece.
'It's been crazy the past week since Zayn announced he was leaving the band. I was worried what would happen to me but our management team reassured me that we would remain a five piece despite One Direction being a four piece,' said Jamie speaking to The Southern Star.
This week the BBC sent Jamie to Madame Tussauds in London to interview One Direction fans and ask them how they felt since the split. The video is on the BBC Newsbeat page.
He also appeared on ITV flagship show 'This Morning'.
Jamie is a past pupil of Kinsale Community School and a graduate of UCC and he moved to London in 2009 where he has been working steadily since. His parents run Landfall House in Kinsale and they, too, have been delighted with the publicity surrounding Jamie.
'I've been in Only One Direction for three years and it's been brilliant. We're the longest running tribute band and we're currently touring the UK and will be heading to Cork this weekend to play Trabolgan.'
As well as trending on Twitter and doing interviews, Jamie has also been busy because of his own solo venture – he has just released his debut single 'Doing Time' this week.
'You can't buy this publicity so it's the right time to release the single which I self-funded and released independently. Nothing is set in stone in this business so it's best to strike while the iron is hot.'
As if being part of a popular tribute band and releasing his own single wasn't enough, Jamie also presents a regular radio show every Saturday on Reprezent Radio in London.
Jamie's debut single 'Doing Time' is available now on iTunes and the video for the single will be available online at the end of April.