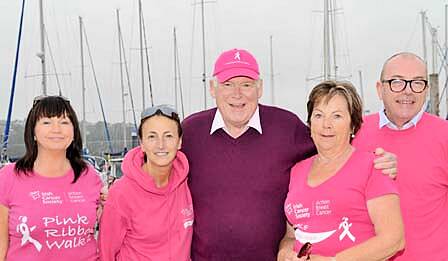 REGISTRATIONS are now being taken for the fourth Kinsale Pink Ribbon Walk.
An Open Day will take place this Saturday, January 17, at the Temperance Hall in Kinsale, from 10am-4pm.
Information and manual registration forms will be available for those who wish to register on the day. There will be a number of professionals from the Irish Cancer Society and Elite Pilates Kinsale to advise and answer queries on cancer-related issues, health, fitness and good diet.
Ambassadors Tara Flynn and Sharon Crosbie will be there on the day, along with supporter Martin Shanahan from Fishy Fishy.
The walk itself takes place on Sunday March 1 at 12pm, in aid of Action Breast Cancer, a programme of the Irish Cancer Society.
It is hoped that many companies and groups will get involved again this year and enter teams so that people can train regularly and enjoy the benefits of working towards a fitness goal as well as fundraising together.
'In the past four years, over €290,000 has been raised by Kinsale Pink Ribbon – a staggering amount that is a testament to the dedication of participants and generosity of sponsors and donors,' said Therese Bradley, PRO, Kinsale Pink Ribbon Walk Committee.
The Pink Ribbon Walk is a national fundraising initiative which organises sponsored charity walks in locations around the country in aid of Action Breast Cancer. The objective is to empower individuals and communities to increase breast cancer awareness, promote healthy living and raise funds for Action Breast Cancer through a fun and rewarding experience.
Since 2009, the Irish Pink Ribbon Walks in Kinsale, Kells, Kenmare and Killaloe have raised over €1,000,000 for Action Breast Cancer, a programme of the Irish Cancer Society.
Action Breast Cancer offers practical help to breast cancer patients and their families all over the country, including many services in Cork.
See www.pinkribbonwalk.ie. for further details and online registration or call the Pink Ribbon Walk Hotline on (086) 2719556 for more information. Online registration is also now available at www.pinkribbonwalk.ie and manual registration forms are at Kinsale Pharmacy.