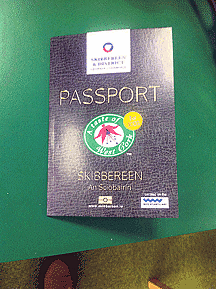 LAST year Skibbereen and District Chamber of Commerce launched a Kids' Passport for a trial run during August and, following very positive feedback, the Chamber are delighted to announce that the Skibbereen Kids Passport returns for the entire summer season in 2015.
This year Skibbereen Credit Union is sponsoring the passports (pictured, right) which are designed to be a fun way to inform families about local places and activities, not only in Skibbereen but throughout West Cork. The passports aim to increase interest in the locality by encouraging visitors and locals alike to call to as many kids' attractions and businesses as possible, they list lots of great fun activities for families to enjoy in Skibbereen and the surrounding areas and you can even get your passport stamped when you visit different venues.
Each colourful passport includes information on beaches, ferries and local wildlife and has a mixture of both free and fee-paying activities, as well as activities suited to the many vagaries of Irish weather.
Donal O Driscoll, manager, said the passport allows visitors an easy means of mapping out their stay in the locality, along with providing them with a memento of their visit. Carla Sheehy, the youngest winner in the Credit Union photo competition, launched the passport and said she couldn't wait to follow the trail and collect her stamps.
Passports are free and can be picked up from the Skibbereen Tourist Office as well as businesses around Skibbereen & District.