Southern Star May 16 2015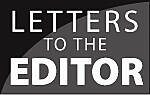 SIR – In reply to Mr Streeton (Letters, May 9th, 2015), marriage is not designed only for procreation. I married after giving birth to my children for the lovey-dovey companionship; what's wrong with that? Us humans thrive on it.
By your logic are the marriages of childless (by nature or choice) heterosexual couples invalid? Some may get married much later in life when child-bearing or fathering is impossible – again for a bit of lovey-dovey companionship, not for procreation.
Also, any combination of sexes can make fine parents, if they are loving, supporting and responsible for their children; let's not forget there are many children that need fostering or adopting in this country, the bulk of which I'm guessing have or have had a mum and a dad.
Children of some same-sex couples might have two mums and two dads (in the case of my relatives), the outcome would be exactly the same if they were heterosexual and were in another relationship.
Same-sex couples getting married does not have any impact on my marriage whatsoever; if I had a vote in the upcoming referendum, I'd vote to afford them the same rights as me, companionship or marriage are gifts to be treasured by all.
I am aware some go through life choosing neither to be married or have children; to them, I'd say: Do unto others as you would have them do unto you.
Let them have their choice too; if in doubt, abstain.
Love,
Sandra H.
(name and address with Editor)