Southern Star reporter Kieran O'Mahony was a friend of Graham Dwyer's. This is the article he wrote for the Star, just days after his school mate was found guilty of the murder of Elaine O'Hara in 2015
IT'S the question that everyone has been asking me. What was he like? Did you ever notice anything 'unusual' about him – any tendencies towards BDSM?
To be honest, I told anyone who asked me that he was just 'one of the lads' and I certainly wasn't aware of his BDSM interests.
It's not every day that I'm asked to write about someone who, over the course of a few months, has made headlines in every national newspaper in the country.
The conviction of Graham Dwyer last Friday for the murder of Elaine O'Hara in August 2012 was indeed shocking in all its detail.
As a friend of his, and a former classmate in Hamilton High School in Bandon, it's been a harrowing few months of this very traumatic trial.
I remember the day I got the call from a mutual friend saying Graham had been arrested for murder.
He told me to go online as there was a report on a news site about it.
No one could believe this was the same Graham we had grown up with. Since then, it seems the coverage has been wall-to-wall.
Tabloid headlines like 'monster' and 'sadist' during the trial made it very difficult for those of us who called him a friend – and of course for his family.
As a journalist, I was curious about what would be said about him, and I suppose it's not many of us that can ever say we grew up with someone who has been convicted of murder.
It was the picture in one of the Sunday tabloids of a fresh-faced Graham with his new band that struck a chord with me – bringing me back to our innocent days in Bandon.
He seemed so young in that photo, and I remembered how around that time he had just moved to Dublin to pursue his architecture dream.
That old photograph reminded me of how much he loved music and cherished his bass guitar.
I remember back then thinking it was pretty cool to be able to play bass and I also recalled odd little things – like the egg cartons he had placed around his room to block out the sound of his amp.
I was delighted for him when he started playing with a local band, Strangeways, and he seemed to really love it too.
We often headed down to Connolly's of Leap together, to see bands playing, and we once went to Feile in Thurles in the early 90s for the 'Trip to Tipp.'
But even through all those years, there was no suggestion of what was to come.
Even in more recent times, we had kept in touch.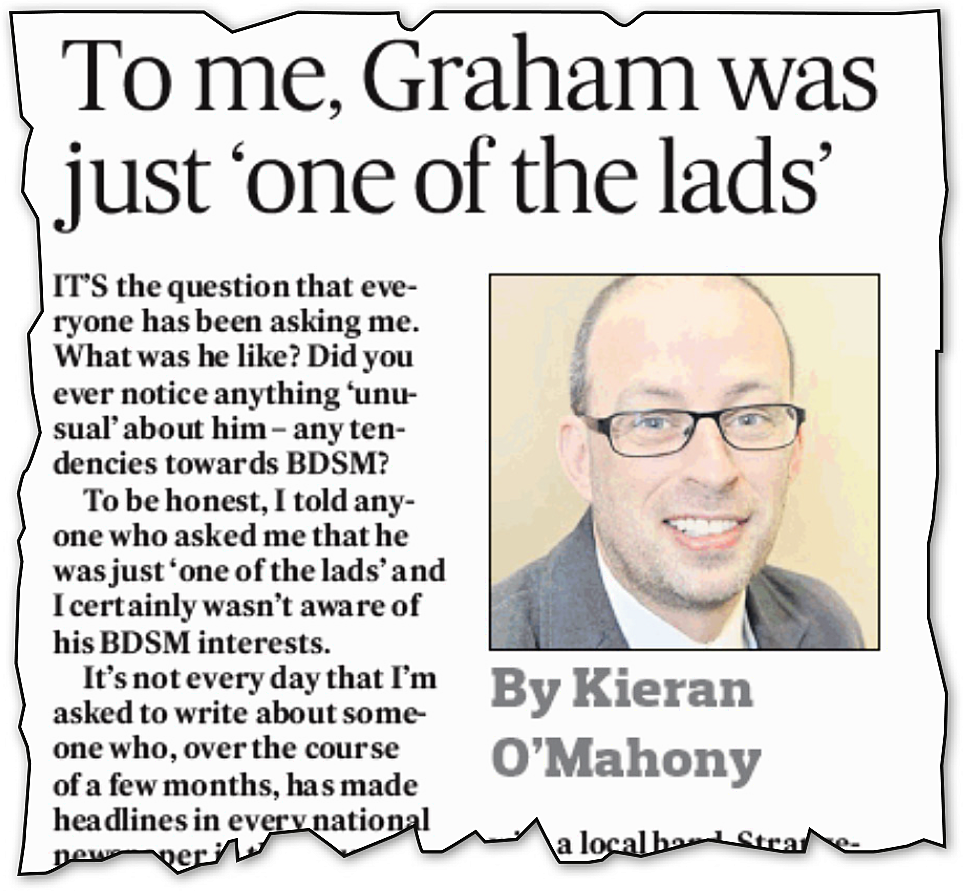 I met him in Dublin for a Depeche Mode gig in the O2, a few years ago, and he seemed fine and was busy with work and his family.
He told me he was gutted that he missed our 20-year 'Hammies' school re-union in 2011 because he was working in Poland at the time.
He would have enjoyed meeting up with everyone over a few pints after such a long time, he said.
School days in the Hammies were always eventful for us young teens, but you could tell that Graham knew what he wanted to do with his career, while some of us were still clueless about our futures.
He worked hard to get the points for architecture in DIT, but also had time for girlfriends, as well as holding down a part-time job. He seemed more driven than the rest of us.
When he moved to Dublin to study, I usually only saw him on rare occasions like Christmas and special birthdays, but reconnected in recent years, especially through Facebook.
Chatting to mutual friends in recent days, the common feeling among many of us who knew him through his teenage years and even later, as an adult and successful architect, was that Graham was the last person any of us expected to be convicted of murder.
I've heard this line more than once this week – you just never really know someone, do you?