A FAMILY of four in a small cruiser were rescued by Union Hall RNLI today when their boat hit rocks and began taking on water.
The cruiser Crystal Rapide struck rocks near Rabbit Island and began listing and the family issued a Mayday call.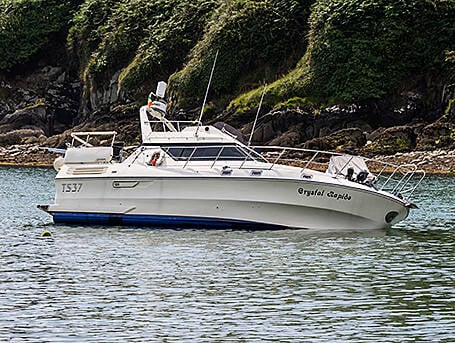 The volunteer crew were requested to launch their inshore lifeboat by the Irish Coast Guard at 10.34am and asked to go to the scene west of Glandore Harbour.
The lifeboat, helmed by Aodh O'Donnell and with crew members Shane Hurley and Jordan Limrick onboard, launched immediately and made its way the short distance south of Rabbit Island.
Toe Head and Glandore Coast Guard units were also tasked. Weather conditions at the time were cloudy but good with calm seas and a Force 1-2 north easterly wind. Once on the scene, the lifeboat crew observed that the vessel had headed for shore due to the intake of water and the skipper had managed to beach the boat into the safety of Carrigillihy Harbour.
The crew assessed that the casualties were safe and well before transferring the two adults and two children onto the lifeboat and bringing them safely back to shore where they were made comfortable at the lifeboat station in Union Hall.
Speaking following the call-out, Peter Deasy, Union Hall RNLI deputy launching authority said: 'This was quite a serious incident this morning and the family who were competent seafarers took immediate action and issued a Mayday when they knew they were in difficulty. They were all wearing their lifejackets at the time, which is always important in situations like these.
'As we continue to enjoy the summer, we would remind all users of the sea, regardless of activity, to always respect the water. Always wear a lifejacket, always carry a means of communication and always let someone on the shore know where you are going and when you are due back. Should you get into difficulty, call 999 or 112 and ask for the Coast Guard.'