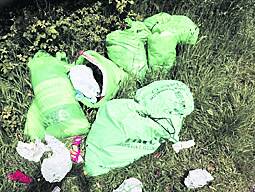 By Kieran O'Mahony
CORK County Council has spent nearly €500,000 on tackling the problem of illegal dumping over the last three years, with the number of incidents reported to the Council's anti-litter phone line reaching almost 2,000 each year.
These figures were revealed at a meeting of Cork County Council when Cllr Donnchadh O Laoghaire requested a report into how much Cork County Council had spent on illegal dumping every year from 2011.
Figures from the Environment Section of Cork County Council show that they are spending almost €150,000 a year on illegal dumping.
So far this year, the council's anti-litter phone line and email has received 787 incidents of illegal dumping – similar to the level in 2014.
'There's certainly a lack of respect in some sectors of the community to the issue of dumping, and resources are already stretched and I feel that the Government has a role to play too, as they committed to a fee waiver for low income households but this hasn't happened yet,' said Cllr O Laoghaire.
Cllr Kevin Murphy said the report shows that the Council is spending a lot of money on tackling dumping and said the new litter hit squad is working, but he hoped people don't expect this new service to act as a pick-up service.
Cllr Joe Carroll said that recent cuts to opening hours in Civic Amenity Sites (CAS) in West Cork could be part of the problem and he reiterated the need for Skibbereen's Bring Site to be upgraded to a CAS.
Cllr Michael Collins also said that he had seen an increase in illegal dumping in the Beara peninsula since the opening hours of the CAS site in Derryconnell have been reduced.
Cllr Paul Hayes called for an investment in the CAS sites in West Cork and said the 'cutbacks are foolhardy.'
However, chief executive Tim Lucey said that no matter what facilities the council provide, some people will continue to dump their rubbish.
'It's not a fact that the re-organising of Civic Amenity Sites has led to an increase in dumping and the message needs to go out that Cork County Council aren't the problem, it's the people who continue to illegally dump,' said Mr Lucey.
Mr Lucey also pointed out that the reduced hours in CAS sites freed up resources so that Council staff can clean up illegal dumping.
'It's always down to a certain percentage of people who will continue to dump.'