A PUBLIC meeting will be held at the Emmet Hotel in Clonakilty on Monday, January 12th, to identify routes throughout West Cork that can be developed for outdoor pursuits such as cycling, walking and running.Jim Daly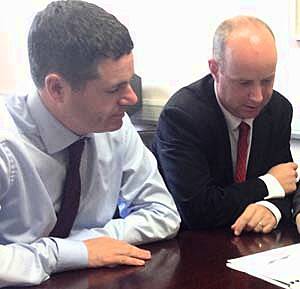 BY JACKIE KEOGH
A PUBLIC meeting will be held at the Emmet Hotel in Clonakilty on Monday, January 12th, to identify routes throughout West Cork that can be developed for outdoor pursuits such as cycling, walking and running.
Fine Gael TD, Jim Daly, arranged the meeting after he received a positive response about these initiatives from both the Minister for Health, Leo Varadkar, and the Transport Minister, Paschal Donohoe.
With regular exercise – both as a way of keeping fit and as a hobby – fast becoming something of a phenomenon, Mr Daly said: 'We need to take steps now to put in place the infrastructure that would allow people to cycle, run, walk and climb in a safe and appropriate environment.'
The West Cork TD said he had received positive feedback from Minister Donohoe who indicated that he would look very favourably on good quality, comprehensive proposals.
Mr Donohue has also agreed to visit West Cork later in January to discuss the proposals, possibly with a working committee, if such a committee is formed following the January 12th meeting.
Anyone with an interest in getting involved in this initiative can contact the Fine Gael TD directly, or to attend the meeting at the Emmet Hotel in Clonakilty.
Appealing for help and support, Mr Daly said: 'Public representatives rely on local knowledge and assistance to get ideas off the ground'.
Meanwhile, Baltimore Maritime Centre (BMC), otherwise known as Glenua, confirmed that it is expanding its residential courses off Heir Island to include seven-day, five-day and weekend courses in June, July, August and September, as well as running four cruising courses in July and August out of Baltimore.
BMC was formed in 2013, in order to continue the sailing activities of Les Glénans in Baltimore, West Cork, and recently celebrated the successful completion of its first season, which involved a limited number of residential keelboat courses, using a fleet of Glénans 570s.
The organisation chairman, Michael O'Meara, said the courses proved to be a great success, with excellent on-shore facilities provided by John Moore of the Heir Island Sailing School, as well as a limited number of cruising courses between Kinsale and Baltimore, using a chartered Hanse 360 from Sovereign Sailing.