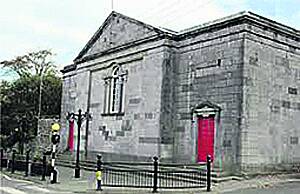 BY JACKIE KEOGH
THE chief executive of the Courts Service of Ireland has declined to comment on the West Cork Bar Association's legal challenge to its decision to close the courthouse in Skibbereen.
Brendan Ryan was in West Cork on Friday, March 27th for the re-opening of Clonakilty's Courthouse, which under went a recent €250,000 refurbishment.
He also declined to comment on the Courts Service's decision to oppose a recent protective cost application taken by the five named applications in the High Court on Friday, March 13th last. Mr Ryan said he could not comment because 'the matter is before the courts.'
When pressed, and asked why the Courts Service was closing Skibbereen – a service that is costing an estimated €8,000 a year to run – the chief executive said: 'All I can say is that the closure of Skibbereen is not entirely for a financial saving.
'It is not primarily about a financial saving,' he added, 'it is about general efficiency within the system.'
Last year, the West Cork Bar Association initiated judicial review proceedings against of the decision made by the Courts Service in October 2013 to close Skibbereen District Court on the basis of 'access to justice.'
The Courts Service has already closed seven courthouses in the region in recent years including: Glengarriff, Castletownbere, Schull, Dunmanway, Coachford, Millstreet and Kinsale.
Previously, the president of the West Cork Bar Association, Colette McCarthy, pointed out that Skibbereen District Court 'provides an invaluable service to the people of Skibbereen and Baltimore and the islands.
'If it were to close,' she said, 'it would mean the number of courts serving the greater West Cork area would be reduced to four: Bantry, Clonakilty, Bandon and Macroom.'
Against this backdrop, Ms McCarthy said that the Courts Service is proposing the development of a multi-million euro criminal court development in Cork city, a proposal, which she said, 'does not have widespread support.'