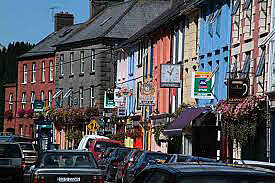 BY JACKIE KEOGH
CLONAKILTY – from Faxbridge to Mick Finn's pub – will be dug up during 2015 as part of project costing an estimated €2 million that will pave the way for the laying of new water mains, underground ducting and the development of a new drainage system for the centre of town.
When all the subterranean work in Pearse Street and Ashe Street is done, Eoin McCarthy, the senior executive engineer working on the project, said Clonakilty's main thoroughfare will be resurfaced and new footpaths will be put in place.
The local authority has already had discussions with local business groups and, although everyone agrees that the project is going to be disruptive, there is an agreement in place that the work will be postponed during the peak tourism season in July and August.
At present, Mr McCarthy explained that the town's storm water and foul water drains are part of a single system, but the new resurfacing and drainage scheme would remedy that, as well as allowing for the construction a pumping station to remove surface water from the roads, even at high tide.
'It is a major scheme and it is being done in the busiest part of the town,' the engineer conceded, but all of members of the Municipal District agreed that it would have long-term benefits for the town.
Tenders for the work were submitted before Christmas and the contract is due to be awarded shortly, allowing for a start date in February, and 52 weeks for completion.
'This is a good news story for Clonakilty,' said Cllr Christopher O'Sullivan (FF). 'Like the development at Astna Square, the end result is going to be fantastic: Clonakilty will be the envy of West Cork.'
To remind people of the end result, and to encourage them to have patience during the construction phase, Cllr O'Sullivan suggested that a billboard featuring an artist's impression of the finished product should be placed at the entrance and exit of the town.
Cllr Noel O'Donovan (FG) agreed. He said: 'Communication is key in all of this and we have to support this because it is a good project, one that will benefit the town in so many ways.'
Sinn Féin's Paul Hayes said he was pleased that such an important infrastructural project was about to start in Clonakilty, but pointed out that there are similar works in the pipeline for Bandon and Skibbereen, and that Bantry can look forward to a €7 million inner harbour investment.