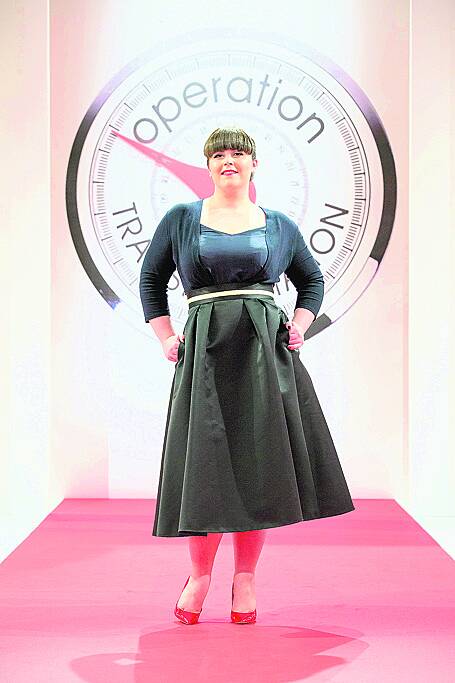 BY JACKIE KEOGH
THE girl's got rhythm and she looked hot too: Veronica Horgan's boyfriend looked stunned, her sister cried, and her dad told her he loved her. That was after Veronica put on her pretty party dress and rocked a classic fifties starlet look on the finale of RTÉ'S Operation Transformation.
'I feel pretty,' she told the presenter, Kathryn Thomas. That utterance was 'a first' and it was also indicative of a genuine transformation because seconds later the screen showed footage of Veronica at the start of this process and it seemed like her sadness had consumed her.
But strutting on the catwalk after achieving her two stone target weight loss – plus a dash extra – was hopefully a feeling that Veronica will remember for the rest of her life. Who, at home, applauded?
Veronica said the RTÉ fashion icon, Brendan Courtney, helped her chose her outfit. It wasn't a party dress at all but a skirt from Coast and a top from Jigsaw, and in them she looked awesome. 'I got to keep them,' Veronica said, still giggling when she poke to The Southern Star on Monday.
Although the show is over, the good news continues. Veronica said: 'I am down another three pounds this week and hopefully by the time my birthday comes around in April I hope to be down three and a half stones altogether and down to my ultimate goal of 11 stone by the end of the year. I'll keep you posted.'
The celebrations will indeed continue: The Family Resource Centre have organised a special celebration dinner at 8pm at The Parkway Hotel in Dunmanway on Saturday, March 21st.
'It will be a great opportunity,' Veronica said, 'to be with all my friends and family and to thank the community, not just in Dunmanway and Clonakilty, but all of West Cork for their support along the way.'