BY BRIAN BYRNE
SOMETIMES it's tricky to place where a car model fits in relation to others from its brand, especially when they're of a different format. Such is the case with Volkswagen's T-Roc compact SUV, now five years in from its introduction and given a refresh last year. Technically it fits into the small crossover space, but it is overall more relative to the larger compact hatch segment of its stablemate the much-loved Golf. It sits between the T-Cross and the Tiguan in the VW SUV space.
The T-Roc is wider and higher than the Golf, and that makes it seem a significantly larger car, though in fact the hatchback is longer. That said, the cargo space in the T-Roc is a lot more and that makes it a very sensible car for the young and growing family motorist. My personal preference has always been for estate variants rather than crossover-SUVs, but there's no denying the usefulness of the latter for today's busy lifestyles.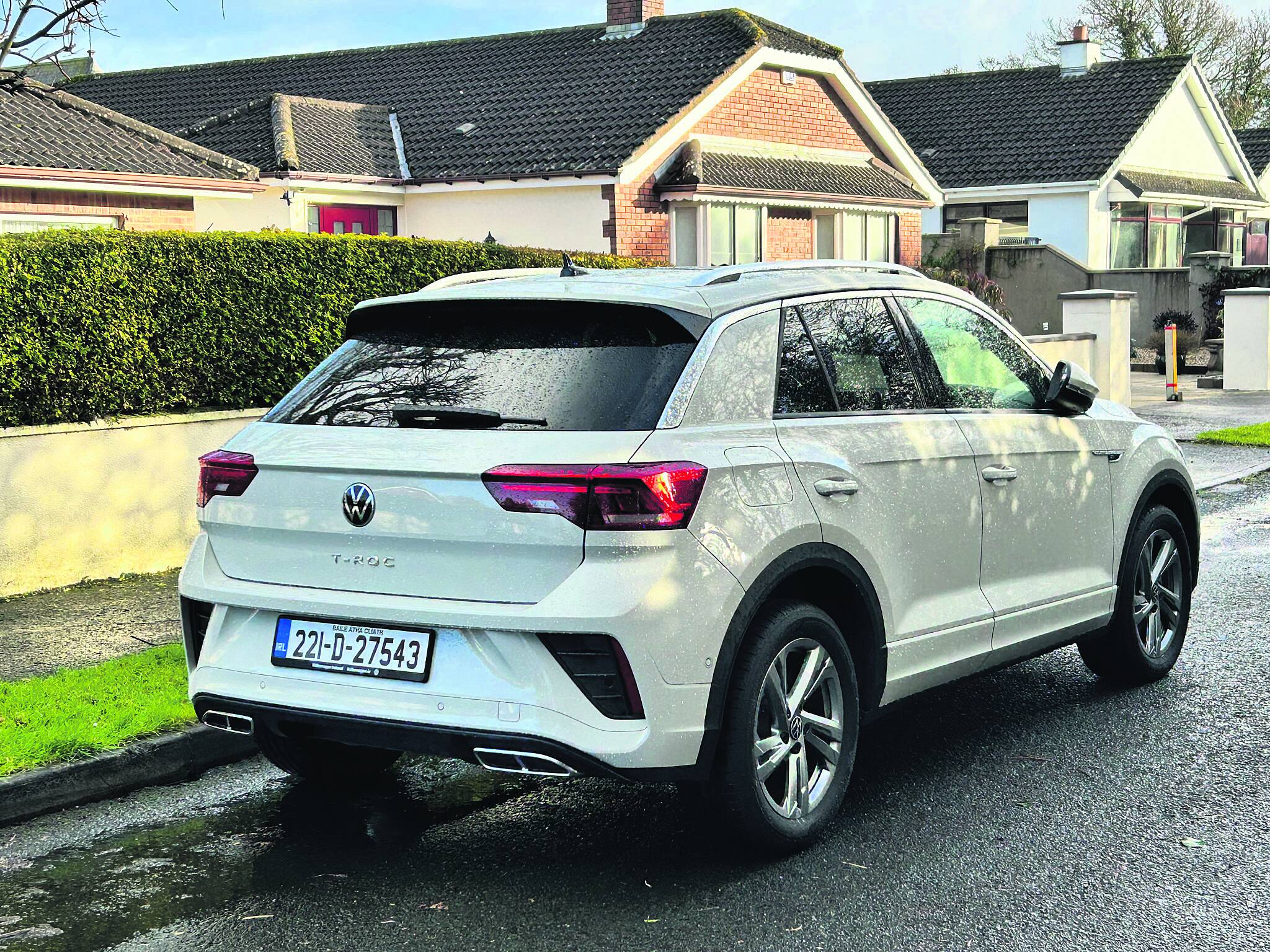 And in truth, they suffer unfairly from environmentally-directed and badly informed commentary simply because they are wrongly associated with the big SUVs of luxury and heavy commercial users.
The mid-life upgrading has included small changes to the front and rear, including new headlights and bumpers, a lighted strip in the grille in higher grades, and changed tail lights and indicators.
They have given a fresh look that the carmaker hopes will continue what has been a good buying interest since the car was launched.
The overall effect is a bit of modernisation in a subtle way, without interfering in what was already a tidy design.
Inside there's a new dashboard in higher quality materials, with a nice clean shape. The central screen sits high but is well integrated in the dash structure, and the main instruments behind a revised steering wheel design are fully digital with appreciated bright graphics in a modernised traditional analogue style.
My review car's grade had knobs on the centre screen for volume control, thankfully, but they disappear in higher grades.
The interior comfort is, as expected from the brand, comfortable and well thought-out in storage and ergonomic terms.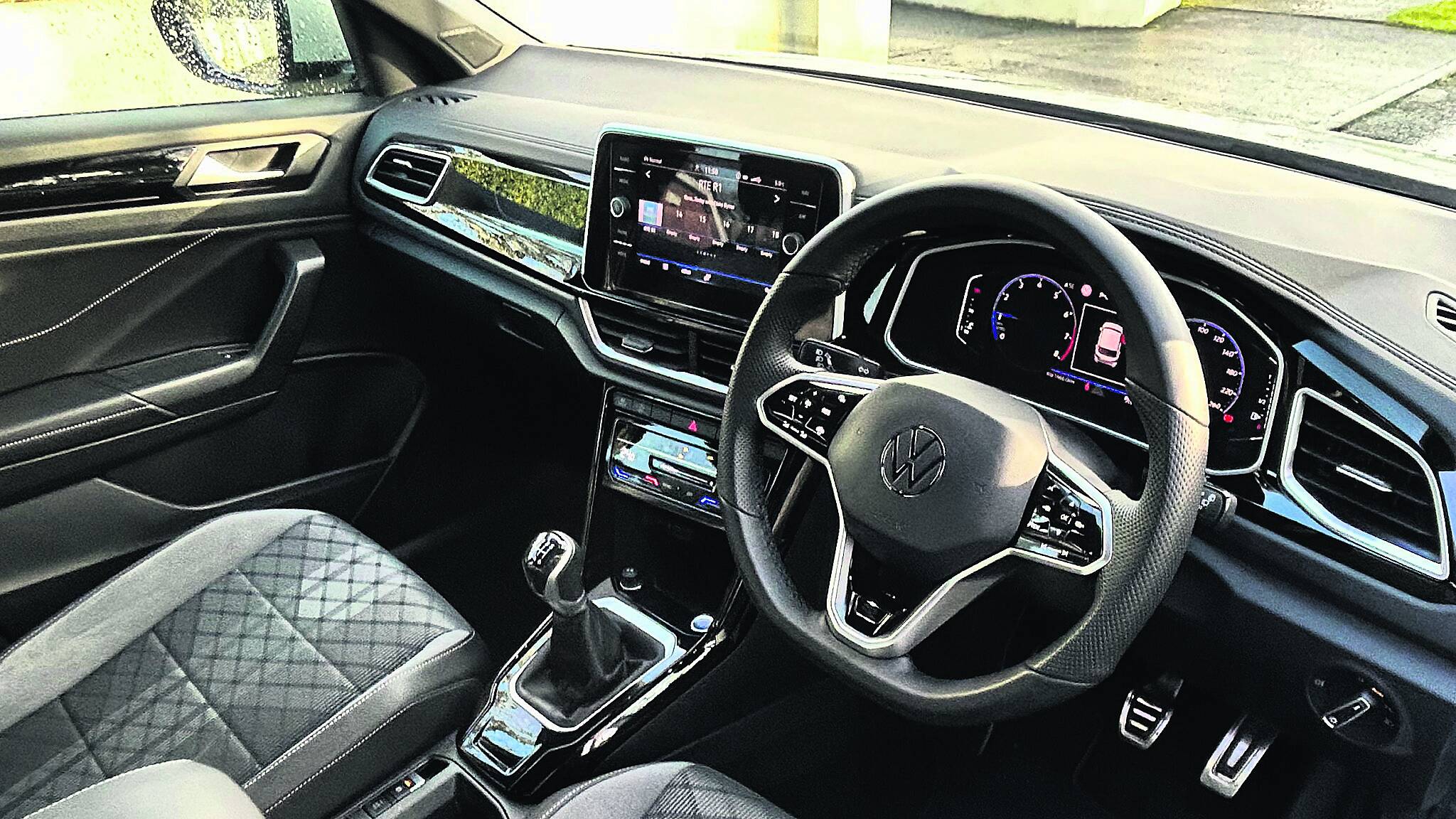 The front seats in the review car were half-leather and fabric, with enough side support to keep things from getting tiring on longer trips or when on twisty roads. Rear passengers have good head clearance thanks to the roofline, and, crucially, enough knee space behind a long-legged driver like me. The cargo area has a capacity of 445 litres in a practical space. After a significant number of EVs under my belt in the last year, it's nice not to have to look at a boot cluttered with cables (they never really get tidied away once used).
It was a change, too, to be driving a manual, not having done so for a while. The T-Roc in this configuration has a 1-litre petrol TSI and a six-speed gearbox.
They are well matched, with sufficiently wide torque characteristics so as not to need over-stirring the shifter. The 110hp is the base unit in a range that includes 150hp petrol and 116hp diesel, and for my kind of use it proved pretty well right for the car. The 150hp petrol is automatic, and would probably be my personal choice, but I didn't feel underpowered in any way with the smaller unit.
This is a car for everyday use, so in the review specification was not trying to pose as anything sporty or dramatic. A pleasant-looking and comfortable family mover where all aboard will appreciate it for what it is. That's something that Volkswagen does very well.
VERDICT
What I liked:
Getting back to good basics.
Price:
From €33,805 on the road; review car €33,805.