Jim Daly, Minister of State for Mental Health announced his decision to step away from politics in a video released today
IN a shock move, local Fine Gael TD Jim Daly has decided not to contest the next election, as he wants to spend more time with his five children.
In a video released today, the Cork South West deputy and junior health minister says it was an honour to serve the people of West Cork for the past 16 years, but now he wants to change direction.
He says that, in his time in politics, he topped polls, both national and locally, and 'never lost an election'.
The current Minister for Mental Health and Older People, a former principal of the Gaelscoil in Skibbereen, lives in Clonakilty, and says the decision was made 'purely on personal grounds'.
He says he has put the people of West Cork first for the past 16 years, but cannot put his children first by spending 'four or five days in Dublin' every week.
'It has been an extraordinary honour' to represent Cork South West, he says in the video, and now it's time to 'hand over the mantle to somebody else'.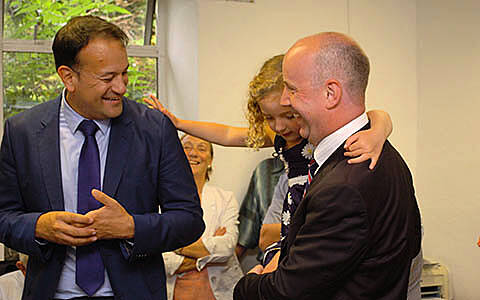 Jim Daly's daughter Emma taps An Taoiseach Leo Varadkar on the shoulder at the opening of her dad's office at High Street in Skibbereen. Photo: Anne Minihane
A source told The Southern Star that Deputy Daly had made no further plans, other than to concentrate on his personal life, for the forseeable future. It is not known if he will return to teaching or pursue another career.
He will remain in his role as Cork South West TD until the next election, which Taoiseach Leo Varadkar has already signalled a preference for holding in May 2020.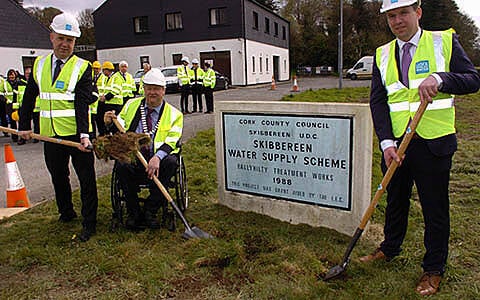 Jim Daly TD, with then county mayor Patrick Gerard Murphy and Brian Sheehan, Irish Water's head of asset delivery turned the sod for Skibbereen Regional Water Supply Scheme recently. (Photo: Anne Minihane)