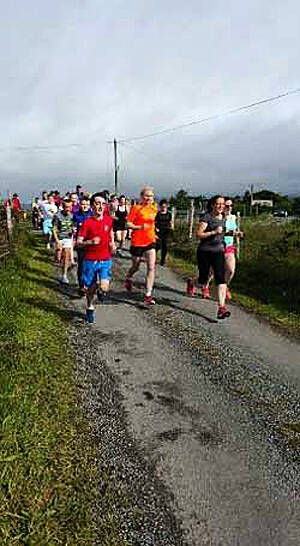 BY JACKIE KEOGH
THE Bere Island parkrun will be celebrating its first birthday on Saturday, August 29th.
The free, weekly, timed 5k event has attracted some formidable runners to Bere Island over the last 12 months including Irish Olympians Sonia O'Sullivan and John Treacy, who is also the CEO of the Irish Sports Council, as well as the parkrun founder, Paul Sinton-Hewitt.
In fact, the Bere Island parkrun – one of three in Cork alongside events in Clonakilty and Macroom – recently broke the 100-runner barrier in style with 140 participants taking part one Saturday in July.
John Walsh of the Bere Island Projects Group said: 'So many people have supported us to make the parkrun work – from the ferry operators who make sure our runners get here on time to the countless volunteers who help marshal the event and record every runner's time.'
John told The Southern Star they wouldn't have been able to run the popular event without the support of Joe McHugh, Minister of State, and TD Noel Harrington, as well as the Cork Sports Partnership, the HSE, and Matt Shields, who is the Ireland manager for Parkrun.
He said the event provides a welcome boost to the island's tourism industry because runners from across the world are always looking to add unusual destinations to the list of places where they have completed their weekly run.
Carol Murphy, who organises the event's volunteer rota each week, said: 'There's always a great atmosphere, particularly after the event when everyone rewards themselves with tea and scones at the Bere Island Bakehouse.' To take part, register at http://www.parkrun.ie/bereisland.