BY KIERAN O'MAHONY
A KILBRITTAIN artist who painted Ryan Tubridy got it just right, according to the delighted RTÉ presenter.
Áine Devine – who now lives in Edinburgh – spent two hours painting Ryan in front of an audience in the grand ballroom of Farmleigh House in the Phoenix Park, in an event organised by the Watercolour Society of Ireland (WSI).
Speaking on his RTÉ Radio 1 show the following morning, Ryan described Áine as a great artist.
'I love her style and the way she paints and she seems to find what's happening inside the person,' he said. 'She is a painter and she's barefoot when she paints, and she's got a lovely personality and she approaches the canvas like a boxer approaching a punch bag – she's in and back and the arms are in and she's talking quietly.'
He said he preferred it to any photo ever taken of him and he believes Áine got him just right.
Speaking to The Southern Star, Áine – who was a finalist on Sky One's 'Portrait of an Artist' in 2014 – said it was real pleasure to have painted the RTÉ presenter and the fact that he liked her previous work, made it all the easier.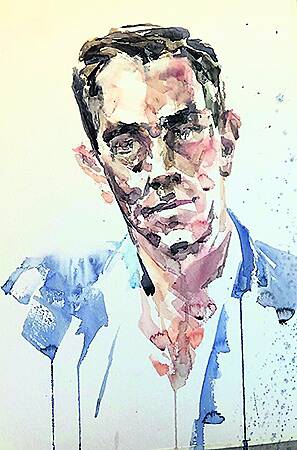 'Ryan was warm and friendly and he was keen to be a good sitter. Once in position, he did his best to be still and silent. However, we chatted away and it was good that I got to know him a bit anyway,' said Áine.
'He is an expert in the art of conversation and spoke of his love of Connemara, jigsaws and the simple things in life. It was lovely to paint him in the grand ballroom and it felt intimate and very relaxed.'
Áine added that she is delighted that Ryan believed it captured him more than any photos of him did.
'His painting is in the gallery now at Farmleigh for the duration of the WCSI exhibition. After that he will get the painting and he was joking about not knowing where to put it. I want to thank Jayne Barry of the WCSI for organising it and it was a real pleasure to be part of it,' said Áine, who added she has had a good few commission enquiries since.
Áine's past portraits include Neil Hannon, Vincent Browne and the late Mo Mowlam. The National Gallery recently bought the Mo Mowlam for its permanent collection.