A seminar which aimed to boost cruise liner tourism in Bantry was told recently of the town's unique ability to tap into a lucrative and growing industry for 'boutique' holidays which puts authentic local experiences at its core
A seminar which aimed to boost cruise liner tourism in Bantry was told recently of the town's unique ability to tap into a lucrative and growing industry for 'boutique' holidays which puts authentic local experiences at its core.
-----
CRUISE ships could be a game-changer for West Cork, and Bantry in particular, a focus seminar on the industry has heard.
The seminar, organised by Bantry Bay Port Company, heard that nine liners paid a visit to the town this year.
The target is to have 30 liners, carrying a total of 25,000 passengers calling per year, by the year 2025.
All speakers at the seminar agreed that this target was very achievable.
However, it was also agreed that all the stakeholders – the port company, the County Council, local tourism and business interests, and local people – will need to be 'on board' with the plan, to make it work.
The seminar was organised to bring all those stakeholders together, to analyse the potential of the plan, and explain what needs to be done to make it work.
Currently, Bantry can only accommodate very small cruise liners at the harbour wall – small ships with about 50 passengers.
However, larger ships, in the order of about 600 or 700 passengers can be accommodated in the inner harbour area, and use a small tender boat to access the pier.
The next size of cruise ship – with about 1200 passengers on board – can access the outer harbour area, and use a tender to bring the visitors to the town, or to excursion coaches waiting at the pier.
Bantry's assistant harbour master Michael Pat Murphy told the seminar that up to 20 coaches can now comfortably park at the new marina pier.
Chris Coates, commercial director of the CMV cruise company, told The Southern Star that there are 127 new cruise ships currently under construction around the world – and 47 of these are the smaller 'expedition'-type ships, or 'Bantry-size' as Michael Pat Murphy described them later.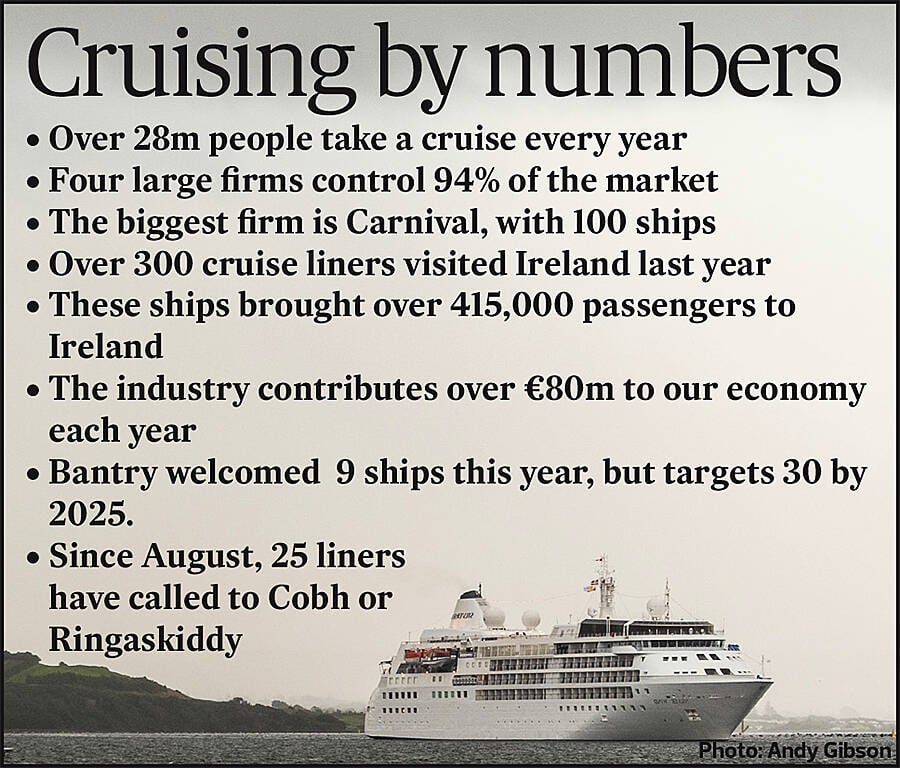 As a result, Bantry should now be targeting the operators of these ships to have West Cork included on their upcoming itineraries, he said.
CMV operates smaller ships for the older, or 'retired' passenger market, he told the seminar, operating in Australia, Florida, Germany, and soon in France.
The company has grown from 17 staff in 2010 to 4,000 today. The fleet ranges in size from the 550-passenger Astoria, to the Magellan, which carries 1,250 passengers.
Some of the ships are regular visitors to Bantry, he said, and he believed the town had huge potential to be exploited.
Ireland, in itself, offers a huge opportunity for cruise liners which are all currently vying to find new locations in an expanding market.
Bantry has natural beauty and it is well located on the coast between Europe, Canada, Greeland and Iceland.
It offers a great 'combination' stop when added to the Cobh offering, and with new restrictions for cruise liners in Dubin, the south coast is becoming more attractive.
But he also offered some advice for the town: develop additional sheltered areas. This is especially relevant given the older demographic of the passengers, and the potential to extend the season further.
'If you arrive into Bantry on a wet day, you will get soaked,' he noted.
Mr Coates added that, in order to truly expand, the town would need to have a high pressure water supply available, a waste reception facility and shoreside power sources.
'There's no point having two big ships in the bay if you can't cope with them,' he said. 'But now you have a blank piece of paper, and you have a lot of expertise in the Port of Cork to help you, but it does need to be a ground-up approach,' he said.
He said the repeat rate with passengers on expedition or 'boutique' ships is very high, so they have high expectations for the 'guest experience', and you need to exceed them. There could be opportunities for small business to promote themselves, and local entertainers may be invited to perform on board.
The seminar was reminded that while Bantry was targeting the liners, it was an Irish 'experience', located in West Cork, that was ultimately being sold.
Coach operator Derry Cronin of Cronin's Coaches, who organise excursions for many of the cruise operators coming to Ireland, said the cruise business in Ireland 'needs to be nurtured. It's a very important part of our tourism.'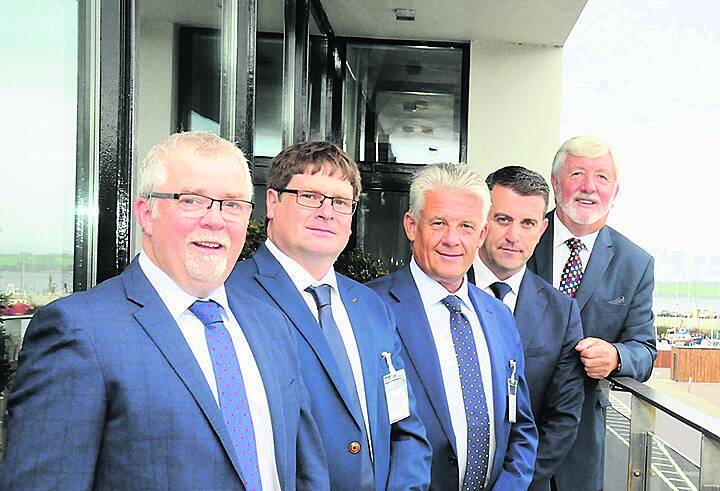 Speakers at the seminar included from left, Derry Cronin, Cronin's Coaches; Michael Pat Murphy, Bantry Bay Port Co; Chris Coates, CMV cruise holidays; Conor Mowlds, Port of Cork and Michael McCarthy, Cruise Europe. (Photo: Tony McElhinney)
Michael McCarthy, the chairman of Cruise Europe, compared Bantry with a town in Norway which had decided that it wanted to capture some of the liner business, too.
He explained how Nordfjordeid's people had come together, appointed one representative to make its case, and now the town, with a similar population to Bantry, has a thriving tourism business from the visiting liners.
Boutique ship passengers want to see new places, experience the local food and drink, switch off for a time and explore the area, and have 'special' and authentic experiences, he said.
He showed a photograph of old lock-up garages in Nordfjordeid which, on liner visiting days, open up and transform into small local pop-up craft shops and work spaces, showing off the locals' traditional wares and skills.
It wasn't an expensive idea, he said, but the passengers love a chance to experience something local and authentic.
Passengers could also be invited on local fishing trips, or a large local attraction – like the Viking ship they built in Nordfjordeid – is another way of bringing them into the town.
'Or have musicians in the Square on liner day, that will bring people in. Put up bunting, welcome them in,' he said.
He said Bantry should remember that all of West Cork could be marketed – including Skibbereen, Clonakilty and beyond, and not forgetting Kenmare and Killarney in Co Kerry. The more options on offer, the more attractive it would be for a stop-off.
Michael Pat Murphy also pointed out that there are also two mooring options in Glengarriff Harbour, and it is a stunning location for passengers to arrive into by tender, with many destinations for trips on its doorstep.
Conor Mowlds, chairman of Cruise Ireland, and commercial officer of the Port of Cork, showed a very slick promotional video for Bantry Port that will be shown to potential clients in the US later this month.
Bantry has a lot to offer, including safe tendering, a safe landing area, great views on entry and a short walk to the town – all elements that the older customers of the 'expedition' trips look for.
'These are exciting times,' agreed Chris Coates of CMV.
------
Cruise liners v carbon footprints
CRUISE ships have been getting a lot of bad press lately, for their carbon footprint, along with other pollution and waste disposal issues.
But new ships are becoming cleaner, CMV's commercial director Chris Coates told The Southern Star. 'The newer ships run on gas oil, which is a cleaner fuel and they are more efficient,' he said.
And climate change is an issue that the cruise companies are taking seriously, he added. 'There is a lot of work going on in that area,' he said.
Michael McCarthy of Cruise Europe said that there can be several issues with the cruise ships – from the wash water, to smoke, to greenhouses gases, and that while the big ships attract attention, the smaller ones, which would be coming to Bantry, are less of an issue.
He also noted how some cities can get it wrong, sometimes. Amsterdam has limited the number of ships in its port, due to carbon footprint fears, but what has happened is that the ships have moved to Rotterdam, and the passengers are now being bussed back up to Amsterdam on hundreds of buses!