AN eight-seater bus might seem a bit much for a passenger car review. But I had booked the Ford Transit Tourneo Custom Shuttlebus for a time when our American and Berlin family members were due for a short visit, as it would have been useful for getting them around.
As it happened, that visit didn't take place. So we had this orange long wheelbase passenger vehicle outside our house, and we decided we might as well do some visiting of our own, and go and see relations on her side in Sligo and my brother in Leitrim. With maybe the possibility of taking a run up towards Donegal.
Just the two of us in an eight-seater sounds like a waste of resources. But it makes for nicely uncrowded travelling when you have so much space that you can throw in not just what you need, but what you might need as well. So there were the folding camp chairs, the portable gas stove, and whistling kettle in case we had a really nice picnic opportunity. One of my guitars should it become appropriate to join in a seisiún. Being Ireland, there were also rain jackets, spare shoes, a rug with a waterproof backing (courtesy a long time ago of Land Rover). As we said a temporary goodbye to our home, the Tourneo Shuttlebus no longer seemed as empty as might have been expected.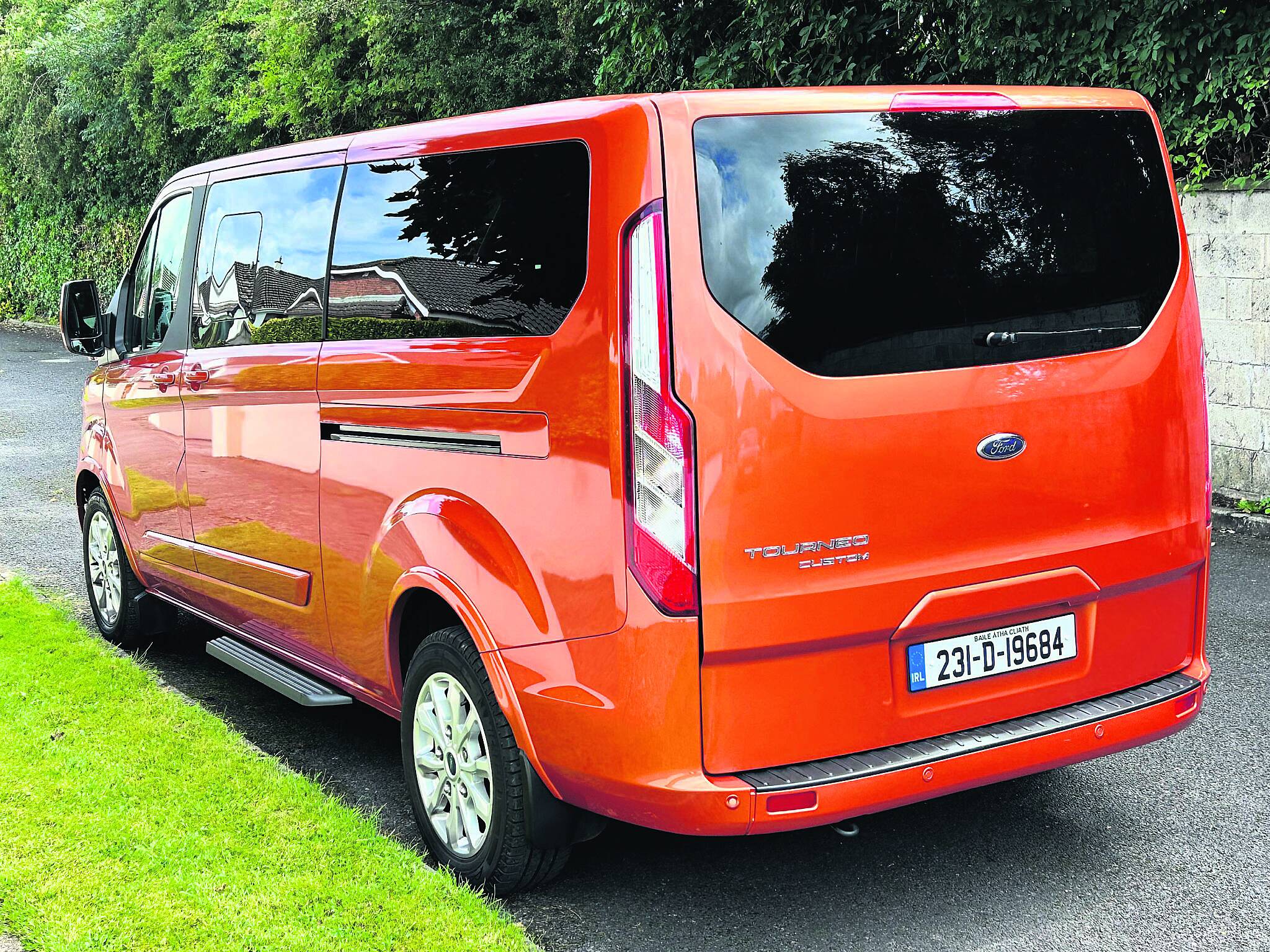 The Transit Custom style is a nice mix of practicality with attitude. There are probably very few sold in the Orange Glow livery, but the review vehicle had a summery look even if it was in an August week slopping out of the wettest July in Ireland's records. The wedge-forward design is amplified by the long wheelbase. It's a van, but the car has character with large front lights and a tidy Ford grille closing short a very steep bonnet line that suggests good visibility in close manoeuvring.
The middle doors on each side slide. At the back, a big tailgate lifts to offer shelter from any rain while loading. It's Ireland, right? So probably useful.
Inside at the business end, the Tourneo Custom Shuttlebus has everything a professional van driver needs to make their day at the office comfortable and productive. A high perch helps with overall visibility. Steering wheel and instrumentation absolutely car-like. A central infotainment screen with blue-hued graphics and a proper mix of touch and traditional knobs management. The gear shifter is easy to hand coming out of the dashboard, leaving the floor free in the middle (I think it can be ordered as a nine-seat with three up front). The level of trim and finish is also to car comfort level.
Midships, the seats were arranged in two rows facing each other, but the layout is flexible and can have all occupants facing forward with a bit of shifting. The layout we got proved useful at stops for coffee — Roosky a case in point where we could sip and stretch, observing Shannon boat traffic while out of what was a fairly significant wind. The aft cargo area was ginormous and even over-luggaged as we were, didn't look nearly full.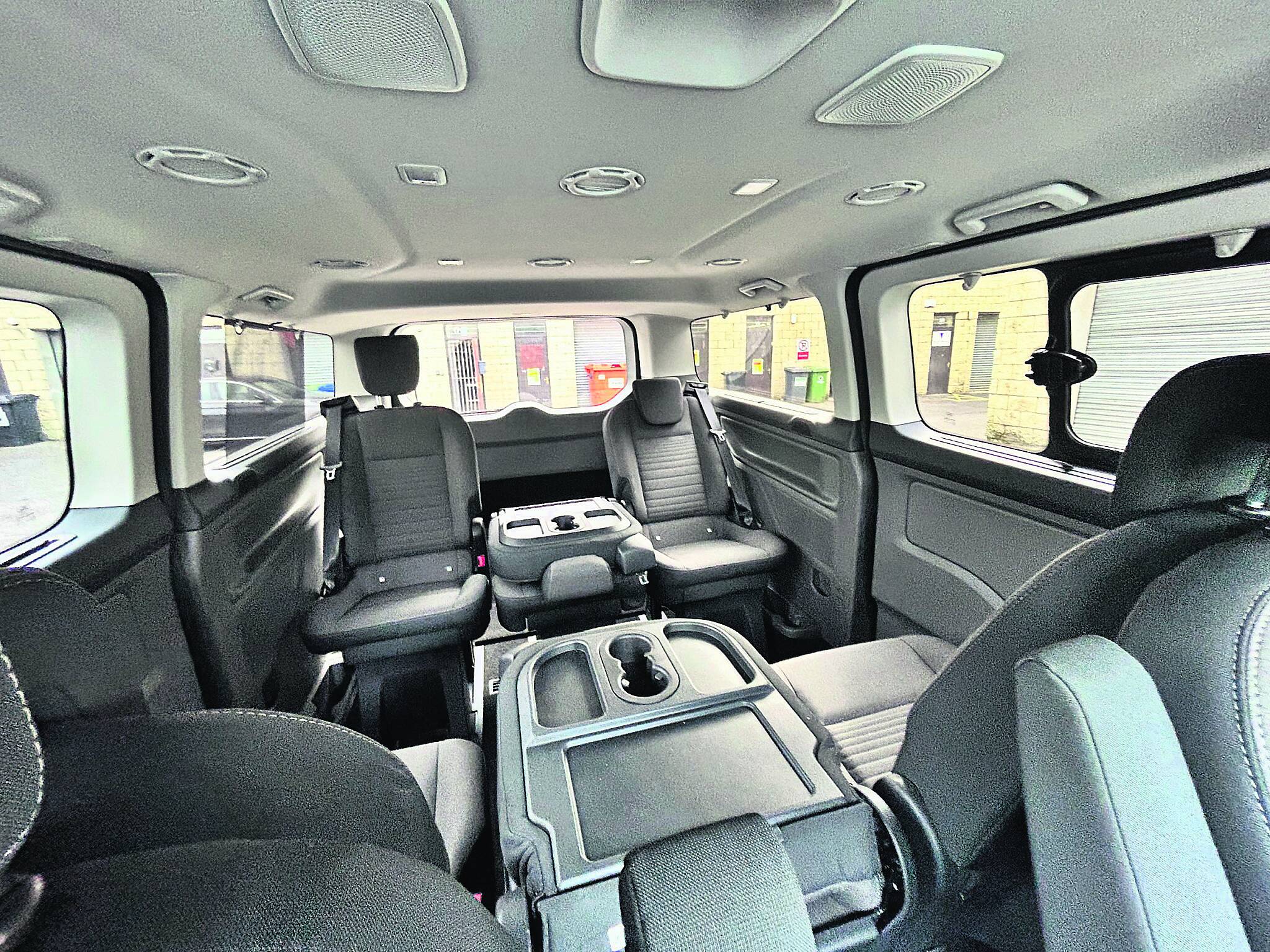 The Tourneo Custom we had was powered by a good old-fashioned diesel knocking out 130hp in a pretty refined manner. The torquey motor lugged well at low revs, and it was only the full bulk of the vehicle that made it a little bit awkward in close-quarter town parking. This is a take-what-you-are-given business, but an automatic transmission would have been nice.
Not to bore with the trip details, but we did our visiting, got a most engaging tour of Lissadell House courtesy of a former lawyer, motored to Ballyshannon in the rain and back to Rosses Point where the sun came out and we could walk a while. And we never had trouble spotting the Orange Glow of our vehicle wherever we had left it. Back home and some 600km later, it showed an average 7.5L/100km had been achieved.
At the price and size, the Tourneo Custom is not going to be a normal family car. But for a hotel courtesy shuttle or similar people-moving business need, it's a very practical and comfortable proposition, with all the reliability underpinnings that come with that blue oval badge.