From cutting edge treatments to confidence-boosting courses for teens and tweens, skincare expert Sherna Malone wants us all glowing
SKINCARE is in Sherna Malone's DNA and she wants to help us all on our journey to healthy beautiful skin.
Daughter of the renowned Bronwyn Conroy she managed her mother's Dublin beauty school for 16 years where she also trained beauticians.
Based in the Solace Holistic Centre in Clonakilty, the facialist, skincare expert and blogger offers a variety of services including workshops designed for teens and tweens.
Teen Life Workshops
'My teen workshops started back in the school in Dublin. I saw there was a real need to nurture and guide teenagers during this sometimes, tumultuous stage in their lives. I devised a fun, practical workshop that combined skincare, beauty and well-being along with communication skills, confidence boosters, interview tips and etiquette. Now living in West Cork, I felt it was important to start them again and help our young teens.'
Tween Life Workshops
These are designed for 10-12 year olds which is an age, Sherna says, where youngsters are just starting to go through some dramatic changes in their body and mind. 'It's the perfect time to start discussing personal care, skincare, confidence, friendships and the importance of being happy within yourself. We also cover dining etiquette during our afternoon tea session, and they love this part!
'I know parents are helping their teens and tweens navigate through these ever-changing stages, but sometimes when the delivery is from someone else, it can change their mindset and their willingness to embrace these positive new skills and become more confident and empowered.'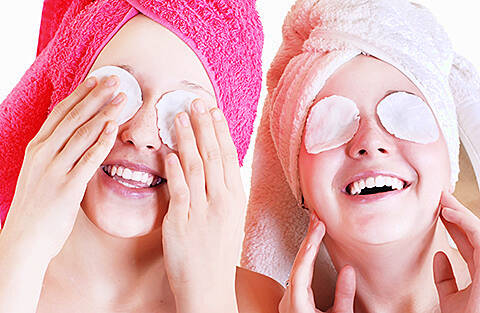 Never a one size fits all
As a qualified aesthetician, Sherna knows that everyone's skin is different which is why when it comes to finding your optimum skincare routine, she feels a skincare consultation is key.
'This involves a skin health assessment and from this I can determine what is the best treatment plan for you and what are the best product choices to help you tackle your skincare concerns,' says Sherna.
She also offers Murad Facial Treatments, Teen Facials and Rejuvapen Micro Needling, a cutting-edge treatment that tackles a wide range of skin concerns and is a great alternative to injectable treatments.
Top Three Tips
'My top advice is to stick to a routine - consistency is key to achieve results, you won't see miracles overnight!
'Secondly, do not skip SPF - 90% of skin ageing is due to sun damage and as my mum always says "Prevention is better than Cure" Lastly, don't forget about your neck and décolleté - these areas often show signs of ageing more. Apply your serums and creams beyond your chin!'
*The next dates for the Tween Workshop are Sunday 14th April and the Teen Workshop is Sunday 28th April, in the Celtic Ross Hotel. For more see shernamalone.ie or follow Sherna on Instagram or Facebook