The Mercy Hospital's at-home cancer care treatment for children was invaluable to Beara GP Dr Fiona Kelly and her family when her daughter battled leukaemia
The Mercy Hospital's at-home cancer care treatment for children was invaluable to Beara GP Dr Fiona Kelly and her family when her daughter battled leukaemia
BY EMMA CONNOLLY
A BEARA GP was in the middle of a busy afternoon surgery when she got a phone call to say her three-year old daughter had been diagnosed with leukaemia.
Dr Fiona Kelly, mum to Jack and Lizzie, vividly recalls that afternoon of Thursday, June 8th 2017, when her family's world was turned upside down.
'The day started out as a normal – I went to work after dropping Jack to school and Lizzie to play-school. I had noticed Lizzie to be a bit tired over the previous week and not having as much energy as her brother. That day she developed a fever while attending her play-school so I decided to bring her to the surgery where I took some blood from her. It was analysed in Bantry General Hospital and approximately three hours later, the call came through. The lab technician called out the results and I immediately knew that my little girl had leukaemia.'
Fiona had no option but to finish her consultation (after a small cry); and with the help of her receptionist, organise a locum so she could take Lizzie straight to the Mercy University Hospital, a drive she described as the longest of her life.
Lizzie was admitted overnight where the diagnosis of Acute Lymphoblastic Leukaemia was confirmed. Her condition deteriorated that night and the following day she was transferred by ambulance to Crumlin Children's Hospital where she remained for approximately 10 days in isolation.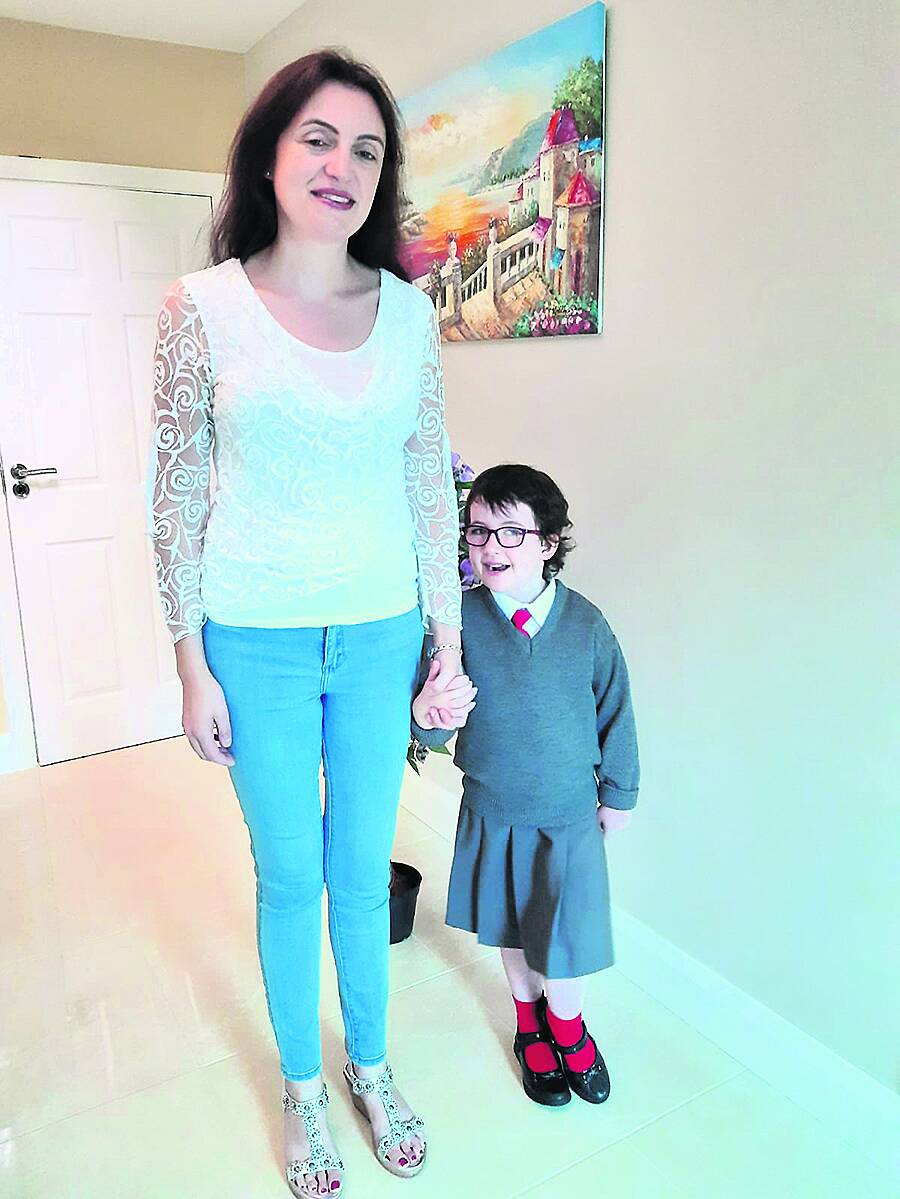 During her stay in Crumlin she received multiple platelet and red blood cell transfusions, Hickman line placement for the administration of chemotherapy, bone marrow biopsies, lumbar punctures and countless blood tests. There were also various types of chemotherapy.
Fiona remembers: 'Following her discharge from Crumlin, Lizzie returned home to Castletownbere where we had to adapt to our new lives living with childhood cancer – constant temperature checks, constant handwashing and sanitising, administration of multiple meds on a daily basis.
'For the first six months Lizzie was kept in isolation as she was very immunocompromised. She had to wear a mask when we went outdoors. No plants, flowers or pets were allowed in the house and everything was sterilised to within an inch of its life.
'She suffered a lot of side-effects from the chemotherapy – lethargy, leg and back pain, weakness, constipation, nausea and hair loss. High dose steroids caused personality changes, weight gain, sleepless nights and constant hunger. She lost her ability to walk on some days.
'During the past two years Lizzie has had several hospital admissions to the Mercy due to infections. If her temperature spiked to 38 degrees Celsius it meant that a trip to the Mercy was mandatory. This sometimes happened in the middle of the night. Lizzie became very accustomed to taking her own temperature and she was able to interpret from the reading weather a hospital admission was required or not,' said her mum.
Fiona is speaking out this month to highlight the Mercy Hospital's POONS service (Paediatric Oncology Outreach Nursing Service) which is calling on people to fundraise for them this October 18th.
The POONS resource is the only service of its kind in Ireland which provides at-home cancer care treatment for children and covers a large geographical area from Youghal to Bantry, and Mitchelstown to Kinsale, as well as some areas in surrounding counties, so that all children have access to this service regardless of their location.
Fiona says it was 'an invaluable resource to us especially in the initial stages of our journey but also throughout the 26 months of Lizzie's treatment.'
Fiona who still had to continue her work during Lizzie's treatment and be there for Jack says: 'The POONS nurses, Peg O'Riordan and Olga Buckley, visited our home in Castletownbere to administer chemotherapy and other medications. This service alleviated so much pressure and saved us from having to travel a four-hour round trip to Cork.'
This August, Lizzie completed 26 months of chemotherapy, and while still classed as immunocompromised and taking preventative antibiotics to help prevent infection, she started junior infants at Scoil an Chroi Ro Naofa Primary School in Castletownbere.
'This was an extremely emotional day for me as I thought I would never see it – I shed loads of tears that morning! The school staff have been so supportive and there has been an excellent hand-washing policy implemented,' said Fiona.
In more good news, earlier this month Fiona, was awarded Rural General Practice of the year at the national GP awards.
'It is fantastic that rural general practice gets recognition in a time when we are under a lot of pressure. The win would not have been possible without the whole team at Bank Place Clinic and especially Dr Colin Gleeson and his wife Maggie,' said Fiona who grew up in The Millbrook Bar in Castletownbere which her mother Mary Kelly still runs.
'It's a great privilege to serve the community in the area where I grew up. But working as a GP in the remote Beara Peninsula is not without its challenges. We provide care to Bere Island which is accessed by ferry and Dursey Island which is accessed by cable car. The greater geographic dispersal of our rural population results in a great travel distance for both patient and doctor. Parts of the Beara Peninsula are over an hour drive to the nearest acute medical unit in Bantry General Hospital and over a two-hour drive from the nearest obstetric and acute surgical units in Cork.
'It is becoming increasingly difficult to attract younger GPs to work in rural areas – a lot of them opt to travel abroad where working conditions are much more attractive. It is also becoming nearly impossible to secure locum doctors to cover our annual leave and out-of-hours service which means that our on-call commitments are becoming extremely onerous. However, overall, I would not change my career choice of working in Beara.'
*The Parents Association at Lizzie's school will hold a bake sale and a fancy dress at the school on October 18th as part of the Mercy Hero's Day to raise funds for the POONS Service. For anyone else who wants to host an event see mercyfundraising.ie for more.