WHAT I am about to say is not easy for me, but I have learnt from a young age to fight, and fight I will, whilst I have a sinew of energy within me.
Michael Kingston is the son of Tim Kingston, the pollution officer who was on duty on the Betelgeuse on the morning of January 7th/8th 1979 and was one of the 49 men, and one woman, who died that night.
This is the speech which Michael delivered at the end of the commemoration service in St Finbarr's Church in Bantry on Tuesday January 8th 2019.
-----------------------
WHAT I am about to say is not easy for me, but I have learnt from a young age to fight, and fight I will, whilst I have a sinew of energy within me.
Today I take a stand regarding regulation for the seafarers of the world and for the weak. I have worked too hard to shirk from the completion of that voyage.
Today is an enormous statement regarding the importance of best practice in industry and the implementation of regulation to protect our seafarers and the environment, and our rescue services so that they do not have to be called out unnecessarily to incidents such as this, and others. The world are here today in Bantry and are looking on.
Ireland is a Maritime nation. Nearly every Irish maritime institution is here today. But where are the responsible Ministers for these areas in the Irish Government, I ask.
Where are our leaders to welcome our French friends here today?
Where is the respect for our maritime sector, and our rescue services? Everyone else knows their importance and are here.
Let's be clear here. 43 people came into our jurisdiction and died at their work place in a disaster that should never have happened. The failures that took place – both on the ship, and at the oil terminal – were some of the worst derelictions of duty in relation to safety in world maritime history and ultimately that was down to a failure to implement outstanding regulation by Dail Eireann in relation to safety on tankers, and a dereliction of duty in allowing an International giant oil corporation to have the complete run of Whiddy Island, with Cork County Council's jurisdiction stopping at the low water mark.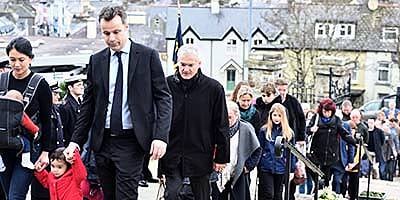 Relatives of victims pass wreaths laid at the Betelgeuse Disaster anniversary mass at St Finbarr's Church, Bantry. Pic Michael Mac Sweeney/Provision
It is the leading example of why doing nothing, having 'fireside chats' about what might or might not be a good idea regarding safety, while agreed international regulation by the world's experts (including Ireland's) at the International Maritime Organisation (IMO) fails to be ratified, putting innocent lives are at risk, is not good enough.
In 2009 we begged our Leaders to attend. They did not.
This time around we asked the President, Taoiseach, Minister for Marine, Foreign Minister, and Minister for Transport Communications and Culture to come here.
They are all unavailable today.
Minister Daly is here, and I thank you Minister Daly, but, with the greatest respect, you are a junior Minister and this is not your portfolio. Granted you are the Minister for Mental Health, and believe me you are dealing here with mental torture, so it is good that you are here.
I have watched much further death and loss in France as a consequence of this, as often alone, on lonely trips to Plerin in Brittany to be with my friends whose fathers and mother died with my father, sometimes with other Irish families, we have had to fly a flag for Ireland, a flag of friendship, one that should not be on our shoulders alone.
Aside from their ignorance of the legal and moral obligations to our Maritime sector, do our leaders, our President and our Taoiseach, and indeed the leader of the opposition, not think that they owe a duty to put their arm around these French people, instead of, over the years, and again, treating them in Trump-esque style like a caravan of refugees?
But there are reasons for this, it is clear. And in the absence of something that does not require great leadership but simple humanity, simple kindness, it is my obligation to point them out.
Our relatives were left to die. The company and its management, with the decisions that they made to reduce safety were clearly guilty of death by gross negligence. But they did not deliberately mean to kill anyone, which of course would be murder.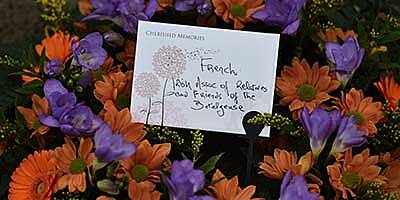 Wreaths laid at the Betelgeuse anniversary mass in Bantry. Pic Michael Mac Sweeney/Provision
If this was today, they should be guilty, without a doubt, of corporate manslaughter and sent to jail for a long time, but Ireland has not introduced Corporate Manslaughter legislation yet.
How is it that the Irish Government, successive Irish Governments, have such little regard for workers?
50 people died at their work place in atrocious conditions.
Both Total Oil SA deliberately cut costs on safety and put their crew in grave danger and those on the Jetty and on Whiddy Island.
Gulf Oil, neglected safety, and worse deliberately cut costs and removed the pressurised firefighting system on the jetty and the bridge to the island, in addition to several other unforgivable failures with safety equipment.
Had it been law then, the management and board of both companies would have been guilty of Corporate Manslaughter.
The United Kingdom enacted the Corporate Manslaughter Act in 2007 and it came into force in 2008. Government agencies and indeed Government personnel can be charged under that legislation. The law Commission of Ireland recommended corporate manslaughter legislation in 2005, 14 years ago, and still Dail Eireann cannot pass it. Why not?
Is it that the Government themselves, successive Governments, are afraid they would be culpable for their actions for allowing Gulf Oil to run their own show, and refusing Cork County Council jurisdiction on Whiddy Island, or for failing to enact already agreed International Conventions that has caused further loss, not having learnt from the lessons of history? If so, that is an appalling approach.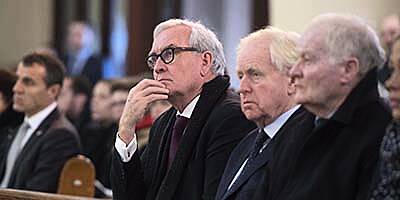 Canadian Ambassador Kevin Vickers at the Betelgeuse anniversary mass. Pic Michael Mac Sweeney/Provision
It puts the workers of Ireland in danger and treats them as 2nd class citizens.
And Minister, perhaps it is understandable, because the Government's failure to enact further internationally agreed Maritime Conventions is a dereliction of duty, to our maritime community, and our rescue services. Many SOLAS Amendments of recent times are still outstanding. You have not ratified the Torremolinos convention for fishing boat safety, and others.
This is bad enough, but I wrote to your Government on 28 November 2014, explaining that we needed [and I quote]
"an important review of our licensing and regulatory regime in order that we never again as a nation repeat the mistakes of the past, which is, of course, extremely important in upholding the public interest of the citizens of our nation"
I knew what I was talking about, having just won Lloyd's list Global Maritime Lawyer of the year for changing international regulation, work which was recognised by the world, but you ignored my correspondence which was addressed to An Taoiseach at the time, the Minister for Justice, the Minister for Transport, Sport and Tourism, the Minister for Communications, Energy and Natural Resources, and the Minster of State for Communications, Energy and Natural Resources.
I wrote again on 19 February 2016 and on 16 December 2016.
I never received a reply.
Just under 3 months later, 2 years and 4 months after my initial correspondence, rescue 116 and Rescue 118 were called out to an injury on a fishing vessel to the West of Ireland, with tragic consequences.
Reports have been carried out but there has been no focus on the international maritime regulatory safety framework and Ireland's relationship with that, and whether or not these precious citizens of our Nation should or should not have been where they were, responding to a relatively minor injury hundreds of miles to the west of Ireland.
How do you explain to Captain Fitzpatrick's father Minister, who is here today, that had your colleagues responded, there is a possibility that his beloved daughter may not have been called out that night, had we met, and in any event without my assistance, Ireland should be implementing international regulation?
It is not just about what happens in our jurisdiction Minister. It is about controlling and influencing what happens outside our jurisdiction, so that our failure to act does not come back and haunt us on our own doorstep - which is exactly what happened in 1979, and why we are here today.
Should our Navy, Commander Brett and his crew when leaving Bantry tonight have to go to our continental shelve, the edge of a vast territory 10 times the size of Ireland's land Mass, in a storm or hurricane force winds out into the West of Ireland, to deal with an incident on a vessel in respect of which we have not exercised our influence as a Nation to ensure that the vessel in question is complying with the standards that have been suggested, but that we have not implemented because the convention is gathering dust in Kildare Street?
The Irish Coastguard and Irish Rescue Services have enough pressure to deal with without it being unnecessarily multiplied.
It is about respecting our seafarers, the workers of Ireland, those who come to work here, those of us from here who go to work outside our jurisdiction; our seafarers, our holiday makers, and our precious rescue services.
And given these issues, and given that the world is here today, it is quite incredible that the responsible Ministers for these areas are not here.
And there are further and deeper failings in relation to the Disaster itself and the way it was dealt with by our State. Is that why they are not here and offer no support?
As human beings, we can, of course, accept the death of our beloved family members and forgive if people tell the truth. But they did not tell the truth and embarked on a deliberate and co-ordinated collusion to fabricate the truth, at the direction of Gulf Oil, torturing us, one that still exists as I speak here today.
We had to rely, as with all other citizens of Ireland, on justice to be administered properly. Our mothers were young women of Ireland and France with small children. We, of course, expected Ireland's Government to stand by us and to see that it would be done.
The Tribunal established by the government of Ireland showed clearly that Gulf Oil Corporation coached their employees to lie. The Chapter 'Suppression of the Truth' is totally clear about this. Hundreds of people from this Community gave evidence to support this. Those who lied were never properly pursued. Some were charged but the charges were dismissed with no evidence being heard in the Court. No one was held to account. Why not? What was the point in this Tribunal?
That is not good enough Minister, and this is a fundamental issue that is not just about us, but about Irish citizens everywhere, and European Citizens. It is about our most fundamental right, the right to life.
Those who died did not receive their right to a proper administration of justice.
To dismiss charges without hearing evidence in a District Court makes a mockery of the Senior Judiciary of our land, who worked on the findings of the Tribunal – Justice Declan Costello. It is a fundamental failing of the Institutions of the Irish State.
We have heard a lot in recent times about the 8th Amendment in respect to the right to life of the unborn. That is an amendment, and then the recent repeal thereof, of Article 40 of Bunreacht Na hEireann which also establishes the right to life of all other citizens. Here it is Minister. It states that
"All citizens shall, as human persons be held equal before the law" and that:
"The State guarantees in its laws to respect, and, as far as practicable, by its laws, to defend and vindicate the personal rights of the citizen"
But these people were dead so they couldn't fight for themselves. And of course, it wasn't 'practicable' to stand up for the women of Ireland with small children, and this community and their evidence. It was much more practicable to allow an international oil giant to walk all over us.
However, I am afraid Minister there is a thing called European law, and when you have been subjected to the Bloody Sunday of the Republic of Ireland in the same manner that the British Government treated those people, you keep a careful eye on it. When I fought for Ireland in London before the Brexit referendum, with Gareth Pearce, the lawyer for the Birmingham Six and Guildford Four, I fought for the fundamental rights of Europe, in particular a thing called article 2 – the right to life.
I referred in particular to the Hillsborough Disaster Minister, as seen in my Irish Times article on 20th June 2016, where the families of the dead had to rely on the Right to Life to establish justice for their beloved family members who they lost, in circumstances where they were being ignored, time and again, by the British Government, who, despite clear and obvious evidence of perjury and collusion by the South Yorkshire police, would not establish a proper and fair enquiry. It just wasn't practicable for the British Government to do the right thing.
Under the right to life provision, the Hillsborough victims right to a proper investigation into the cause of their death was established. The had died from 'Asphyxia due to crushing' – in simple terms the starvation to the body of oxygen.
The police had lied to try and establish that none of them could have been revived. The Court ruled that the coroner must take into account not just the immediate physical cause of death but all the surrounding circumstances. That of course included the actions of the police and the safety personnel – the ambulance service and of course the collusion and cover up was looked at. A new coroner was appointed and all 96 death certificates were changed from 'Asphyxia due to crushing' to unlawful death.
As a consequence, the Chief of the South Yorkshire police, a number of others, and the lawyers are on trial as I speak.
My father, as referenced on Page 105 of the Tribunal Report, died from "Asphyxia due to drowning".
But it has been clearly established in the Hillsborough enquiry in the United Kingdom that the Coroner must take into account not just the immediate physical cause of death, but all the surrounding circumstances. That includes all the evidence in the Tribunal and the Suppression of the Truth, as clearly concluded by Justice Declan Costello.
The Coroner did not do this. There is no question that my father, and all the victims deaths should be confirmed as "unlawful death" because everyone knows they waited in a fit and healthy state for at least 25 minutes to be rescued but those who should have been there to turn on the fire hydrants and send the safety boat out, which should have only taken 7 minutes, lied, and their lies were backed up and coordinated by their employers, Gulf Oil, and Gulf Oil's lawyers.
For 23 of the beloved husbands and fathers of our French friends there are no coroners' conclusions because they were not found. Coroners Reports should, of course, be issued for them that state 'unlawful death'.
On 15th November 2008, the international trade magazine, The National Business ran an article entitled ''Tell it all, tell it first and tell the truth' which is quite extraordinary, where Gulf Oil's Corporate Communications Manager stationed on Whiddy Island at the time of the Disaster, Mr Michael Register says:
"Back in those days, no company had anything in place for dealing with the communications aspects of a major disaster. I can honestly say I made every mistake it was conceivable to make,". "My biggest mistake was believing the lawyers," he added. "They lied to me, so I unintentionally lied to the press, and a few months later it all came out."
Now Minister, I was not going to bring any of this up, but I am not going to stand idly by and watch our leaders – of successive Governments, treat people in such an inhumane way.
We, when we are treated like this, have a tendency to fight back in this day of the underdog here in Bantry.
In 2009, Minister Andy Burnham went to the commemoration at Anfield. He is from Liverpool, like you are from West Cork. He had a conscience, and with pressure in the stadium, went and decided to help establish justice, the fundamental rights of so many citizens that had been denied. You are form West Cork Minister and this is your Andy Burnham moment. We do not have the weight of Liverpool behind us, but today the world is watching here in Bantry.
So, what I suggest you do is this.
Raise these issues at Cabinet immediately upon return to Dublin and set down relevant motions in the Dail.
Respond to my letter of 30th November 2014 before anyone else in our seafaring community or rescue services dies.
Get Ireland's house in order in relation to the implementation of outstanding regulation by reading carefully barrister and former ships' officer Ciaran McCarthy's paper in the The Journal of International Maritime Law entitled Shifting Tides: Ireland's Struggle to keep pace with the Safety of Life at sea Convention, and my article in the 2018 Autumn Edition of Inshore Ireland entitled 'Safety will not stand still for Ireland'.
Discuss at Cabinet and set down a motion in the Dial to help enact Ireland's Corporate Manslaughter Act to protect Irish Seafarers and workers across Ireland and those who come into our jurisdiction;
Review the Whiddy Island miscarriage of justice, the 'Bloody Sunday' and 'Hillsborough' of Ireland, and rectify the position. I am sure that the decent people of Chevron, who inherited the shambles that was Gulf Oil Corporation would only be too happy to help you with names of those who are still around, such as, of course, Mr Register, and others to help with the enquiry, and of course a full disclosure of Government files will be required.
In the meantime, you can, in a similar manner to David Cameron in Westminster ask An Taoiseach to issue an apology to all the families and let Article 40 of the Irish Constitution be followed in pursuing those who could not tell the truth, and who we cannot therefore forgive, because they have denied us that simple moral wish.
We ask that the Irish Government, liaise closely with Ambassador Crouzat.
This accident happened in Ireland. However, the same right to life exists in France. It is why we are a European Union. Human Rights are the Cornerstone of the European Union, and I ask Ambassador Crouzat that France assist Ireland in achieving these goals under European Law. Of course, of all the countries it is Ireland that should be standing up for the fundamental rights of Europe, as Europe, and in particular France, have helped put Ireland's issues regarding the Hard Boarder with Brexit at the forefront of the negotiations. I am sure this will not be lost on Michel Barnier and President Macron, especially involving 42 of their citizens whose fundamental European rights have been breached by Ireland.
It is bad enough that we have had to endure all this failure, but to be treated like this, in having young children of those who died, carry the burden of friendship with our French friends over so many years, with no support from Ireland's Government over all these years, and again now, is shameful.
I have included all this in a letter that will be despatched, openly, to you later today, copying all members of the Oireachtas.
To those who lied, now is the time to exonerate your conscience. We forgive you all and all you have to do is explain what exactly happened and what you were asked to say and assist the Government in their enquiry.
These issues are so fundamentally important to the citizens of Ireland and the whole of the European Union with regard to safety and the Administration of Justice that I would not do myself and the people of this area justice as a true Irish patriot and a true European were I not to do so. The French Flag flies high in Bantry today. In 1796 we believed in liberty, equality, fraternity. I still do, as did the founders of this nation, but we seem to have lost it along the way.
The fact that the responsible Ministers are not here today proves conclusively that we do not truly care about our citizens, or our seafarers, or our rescue services, nor do they understand the real purpose of Europe – the protection of our fundamental rights from oppressive Governments.
I remind you of what Gareth Pierce said in our fight to keep the UK in Europe:
"Can we seriously countenance the hard-won commitment to enforceable rights slipping back unchecked into the insular indifference that caused injustice after injustice in our history?"
I am sorry to have had to put you on the spot today Minister, but we have been left with no choice given the hurt that has been compounded time and again, and I am tired of it now, but if I have to go to the well of my being once more I will, with Madame Ravaleu and everyone else, and travel to the High Court and invoke these simple and obvious rights, and I have confidence in the Senior Judiciary of our land. I hope you will do the decent thing and spare us that trip Minister.
Now we will go down through Wolftone Square past St Brendan to the Abbey Cemetery to honour our dead in the manner they deserve by placing the Wreaths that have come in from all over the world.
As we do that please think of the candle that lights up the tomb of St Oliver Plunket, Ireland's greatest martyr. Three times he faced trial and only on the third did they get him with a stoked jury. A victim of a terrible miscarriage of justice, he too watches over Ireland carefully today, and in particular our Government's moral direction on behalf of our citizens.
Michael Kingston