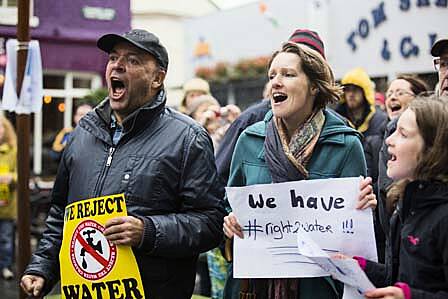 AS part of the national day of action against the introduction of water charges, West Cork Right2Water will hold a protest at Emmet Square, Clonakilty at 2pm this Saturday (Jan 31).
Speakers will include local Sinn Féin Cllr Paul Hayes;, Cllr Michael Collins (Ind), and Ed Harper of the West Cork People Before Profit.
The last Clonakilty event, on November 1, was attended by around 300 people.
'We're calling on people to come out and show that the diversionary tactics announced by the Government will not work. Once again, our Clonakilty protest is not under any party banner, although people have of course the right to show their affiliations if they wish,' said Cllr Hayes.
'With Irish Water contractors working at full speed to install meters in recent weeks in Clonakilty, we will be calling on the public to boycott the water bills. The Government also rejected a recent Sinn Fein Bill which called for the ownership of the natural resource to be enshrined in our Constitution and kept in public ownership. This heightens our concern that they intend to privatise Irish Water in the future. It is important that the momentum of recent months be kept up and we ask people to make a special effort to attend and bring others along,' he concluded.