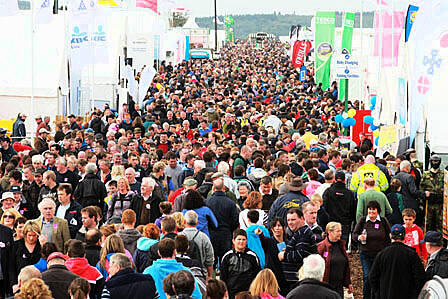 IF you are a business looking to get a spot at the National Ploughing Championships in Laois in September, your Local Enterprise Office (LEO) may be able to help.
The championships are back at Ratheniska in Co Laois this year, from September 22-24, with more than 100,000 visitors expected to attend.
As a result, it represents one of the country's best showcases for business.
The 50-acre exhibition and trade arena is one of the main attractions of the three-day event, which draws crowds from right across Ireland.
This year the country's Local Enterprise Offices are hosting a Local Enterprise Village to provide an opportunity for clients to take full advantage of this unique consumer event.
Each Local Enterprise Office has only two stands available for its clients.
Cork North & West LEO is now inviting any clients interested in availing of one of the stand at the show to complete an 'expression of interest' form and return it to their offices for consideration, at the earliest opportunity, as places are extremely limited.
The LEOs say priority will be given to enterprises manufacturing their own product or offering an innovative service relevant to show's attendees.
Winners will then be chosen by 'drawing a lot' an dthe closing date is April 7th.
As part of this "Local Enterprise Village" each company will receive:
· Exhibition Space either 2 X 2 / 3 X 2 meters
· 2 X Exhibitors Passes
· Associated Parking Rights
· ESB Supply
· Access PR Opportunities
· Exhibition Advice
The cost of stands are highly subsidized and cost €500 for a 3 X 2 meter stand and €300 for a 2 x 2 Metre Stand.
Please note food companies can only serve samples only or sell products for home use.
Please note that any costs of rental of chilled display cabinets or purchase/rental of additional equipment will have to be borne by the promoter themselves.
Once your booking has been confirmed you will receive an invoice for your exhibition space which must be paid by 29th May 2015 in order to confirm your space.
Your company will be expected to attend a client briefing to be held in the Hudson Bay Hotel , Athlone , Co. Rosscommon at one of the following times:
17th June 2015 - Session 1: 9.30am-12.30pm / Session 2: 2.00pm-4.30pm
18th June 2015 - Session 1: 9.30am-12.30pm / Session 2: 2.00pm-4.30pm
Your particular session will be advised at confirmation of booking stage.
These sessions are really important for the exhibition in that they provide you with an opportunity to (1) Obtain Guidance on the NPA Exhibition (2) High Quality Photography which is used for signage and PR (3) Meet our Exhibition Contractor to discuss further requirements
Please note setup is scheduled for 22nd September 2014 and all companies must be available for setup the day prior to the event.