Evie Nevin (Social Democrats) a local election candidate for Clonakilty-Skibbereen is running for office because she believes 'people with disabilities need to be heard when it comes to law and policy making.'
Nevin, who lives in Clonakilty with her husband and two children, suffers from Ehlers Danlos Syndrome, a connective tissue disorder that causes her joints to dislocate.
'Disability does not discriminate. It can happen to anybody at any time through accident or injury,' she says.
Disability
'Thirteen and a half percent of the population live with a disability which equates to about 11 thousand people in the Cork South-West region alone,' Nevin said when speaking to The Southern Star.
One of her main election promises is to address social isolation and promote independence amongst the disabled and elderly.
'Many people tell me they avoid certain parts of town. They feel they are not being catered for and I would like to ensure they don't feel like an afterthought in our society.
'On a practical level, levelling footpaths, creating ramps and fitting post offices and banks with automatic doors would be an achievable start,' says Nevin, who is reliant on a wheelchair.
'A panel of people with a varied range of disabilities would be helpful so that all aspects of impairment and mobility issues can be heard and different needs can be incorporated.'
Environment
Climate change is another area Nevin is passionate about and she is buoyed by the interest the younger generation are showing in it.
'I have noticed a lot of young people are taking more interest in politics which is great as they are noticing issues such as climate change which affect their future.'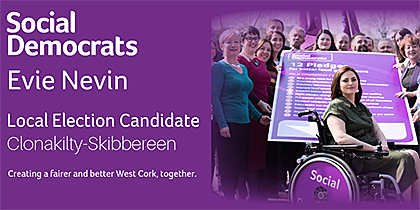 Nevin is also delighted that there is such a strong movement against the proposed plastics factory in Skibbereen.
'We're protecting West Cork and the industries here that depend on a healthy and thriving environment.'
Despite the positivity she is of the belief that we should be doing more.
'There is a lot our council can do to boost bio-diversity such as tree planting and the introduction of wildflower areas.'
Housing
Nevin says she is inundated with calls from people worried about the possibility of becoming homeless and feels this should tackled urgently.
'Housing is something that's very important to me. People think that homeless issues are mainly city issues but unfortunately it's creeping down here to West Cork.
'We have a serious lack of private housing for rent and a lack of available council housing. There are proposed council estates since 2015 which haven't been built yet and over 11 thousand vacant homes across West Cork.'
Evie Nevin is set to contest her first local election on May 24 and she is asking you to 'Vote for change'.