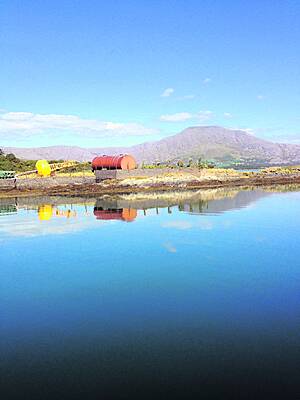 By Helen Riddell
BERE Island is to get a sailing school once more.
For a number of years the Glenans Irish Sailing Club operated a sailing school on the island, teaching hundreds of students the basics of sailing, with many still returning to visit the island.
Now the organisers of a new sailing club on Bere Island are hoping that sailing will once again become a part of island life.
In 1947 a group of former French Resistance fighters formed an International Training Centre, which included a nautical section, located on the Glenan Islands off the Breton coast.
Over the years the nautical section expanded to become the largest sailing school in France, Les Glenans.
The Irish branch of the Glenans was founded in 1969, operating successfully for over 25 years with bases in Baltimore, Bere Island and Clew Bay in Co Mayo.
However, due to restructuring within Glenans, the Bere Island base closed in 1993 and the Baltimore base was also withdrawn.
The new sailing club has been set up by John Walsh of Bere Island Projects Group, Thom Kleiss, a regular visitor to the island and keen sailing enthusiast, and former Glenans member Proinnsias O'Keefe.
John says the idea to form a sailing club came about from a conversation he and Thom had last summer.
'Myself and Thom thought it would be a great idea to start sailing lessons again, as Bere Island has a history of pleasure sailing and sailing education, and it would be great to get that heritage back again,' he said.
The course is supported by the Irish Sailing Authority (ISA) which is also supplying the boats.
John Walsh is grateful for the help they have received both on and off the island. He thanked Gail McAllister from Adrigole Sailing School for all her help, and instructors, Proinnsias and Carmel O'Keefe, Michael Broderick, and Redmond Hallahan, who will be assisted by Mairead Murray, and Dan Murphy.
Thom Kleiss, who is the commodore of the Bere Island sailing club, is no stranger to the water. 'I was born on the water in a house-boat near Amsterdam, and I've sailed since a young age on the rivers and the sea, raced in competitions and crewed on an Atlantic crossing. I now sail every week in Singapore where I'm based,' he told the Southern Star. A regular visitor to the island with his young family, Thom is keen for them and others to enjoy his passion for sailing.
Bere Island, and especially the harbour of Berehaven, have great waters for learning to sail as they are sheltered and manageable for small craft, he said.
He feels sailing will also contribute to water safety awareness. 'Sailing is ideal for water safety, understanding the boat, the wind, the tides and currents will make you understand how to act on the water in any situation,' he said.
For further details on the sailing club, contact Bere Island Project Group on 027 75099.