WITH so many external factors affecting farmers, it brings peace of mind knowing that the person consistently serving you at your local hardware store comes from a farming background.
These days, practical farming experience is hard to beat and, when it is coupled with further study in agriculture and animal welfare, you can rest assured that you are in the right hands.
Agri sales specialist James Murphy, known for his cheeky grin and friendly service, has been working at Cronin's Homevalue Hardware in Ballylickey for 10 years now. What some people may not know, however, is that James has spent his entire life working on the family farm, which he inherited when his father retired.
James farms suckler cows and mountain breed sheep in nearby Coomhola, Bantry. He has an autumn/winter calving system, with lambing in late March/early April. Happily married to Lorna, James is proud to be bringing up their two little boys on their family farm, similar to his experiences in his own childhood.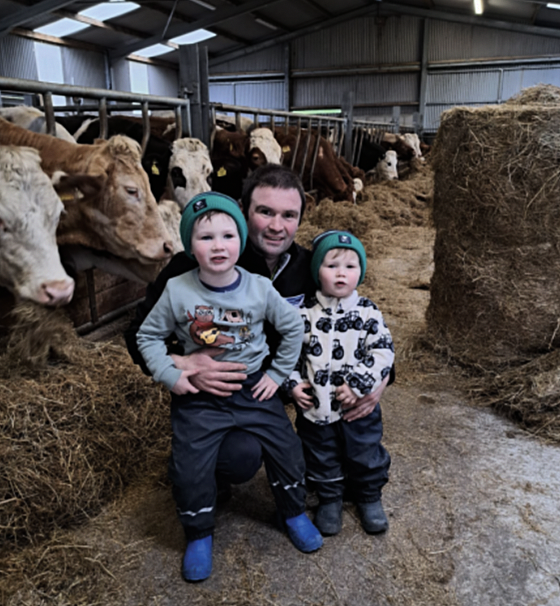 Seen pictured here with their dad, Tadgh will be 4 in June and Evan only recently turned 2 years' old.
James says 'As a farmer with young children, health and safety is most important to me.' He strongly advises farmers to investigate grant application systems to increase the health and safety of their farming practices, such as the grants available for animal handling facilities and stock proofing of lands (fencing).
James adds that the government's Targeted Agriculture Modernisation Schemes (TAMS) are very helpful for farmers to make improvements to equipment on their holding or for upgrades/new development of farm buildings. He also stresses that it is important to always wear the correct PPE equipment when undertaking certain farm tasks.
Put simply, James' motto is 'A healthy farmer is a happy farmer.'
Having completed an agricultural certificate course at Clonakilty Agricultural College, James went on to study other specific certificate courses to further his knowledge in areas such as animal remedies/supplements, and the dispensing and handling of farm pesticides (which are all sold at Cronin's).
A firm believer that 'In Ireland there is no such thing as bad weather but rather bad equipment', James goes on to mention that Cronin's have a full range of animal handling equipment to reduce stress on livestock and the farmer, such as fencing and gates.
Another of his passions is to portray his knowledge of animal nutrition regarding correct feeds for different farm animals, at different times of the year, to achieve increases in body condition, fertility and milk yields for both beef and sheep farming.
'With so many local farmers changing over to an organic system of farming', says James, 'once again, Cronin's Hardware stays abreast of latest developments by providing a full range of organic feeds and supplements.'
Many local farmers may recognise James from seeing him at their local livestock marts – where he is always on hand to proudly promote the Cronin's brand. James is also at the forefront of their stand at various Agricultural Shows across West Cork, such as the Dunmanway Agricultural Show, the Carbery Show in Skibbereen and at their local Bantry Agricultural Show, accompanied by his colleague Stephen O'Sullivan, Cronin's Husqvarna expert.
James finishes by saying 'At Cronin's Homevalue Hardware, we pride ourselves in treating our customers as we would like to be treated. In these tough times, a smile costs nothing but can make all the difference. After all, Cronin's in Ballylickey is a local, family run business – here to help look after you and your family farm.'