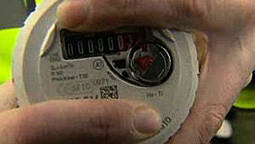 By Kieran O'Mahony
IT was a tale of two towns this week, as Leap residents protested at the installation of water meters, while nearby Clonakilty appeared to welcome the workers. Although in Leap, the battle lines were drawn by chairs and chat, rather than any harsh words when the installers arrived on a recent Tuesday.
Residents from the Drom Ard estate said that, while it was all very cordial, they remain determined to peacefully prevent contractors from installing water meters in their estate, both now and in the future.
This follows last week's attempt by a sole contractor for Irish Water from installing the water meters outside their six houses.
'We all decided that we would express our view on the issue and when word got out that there was a contractor outside, we all went outside and got chairs and sat over the water point to prevent him from installing them,' said Gina Mariotti, one of the residents.
'We sat on our chairs in the sunshine and the lone contractor took pictures of us and left and it was all very peaceful and good-humoured. There's no harm in telling people how we feel and it's a democracy after all.'
Gina was keen to highlight the fact that it's not just in Dublin and Cork city that people are against the installation of water meters.
'We all have signs on our doors stating our opposition to the water charges and if contractors come again we will prevent them from accessing the water points. It's a small bit of mini-revolution, West Cork-style.'
Irish Water said this week that it was aware of a 'small protest' that took place at the Drom Ard estate.
'Irish Water fully respects the right to peaceful protest and endeavours to facilitate it as far as possible. In cases where protests lead to health and safety concerns and part of the installation process has to be postponed, Irish Water will then reschedule the installation to a later date.'
Meanwhile, it was business without disruption for installers in Clonakilty.
Some residents were impressed with the professionalism displayed by the installers in the town, who caused a minimum of disruption while installing the water meters and some were even treated to cups of tea while working.