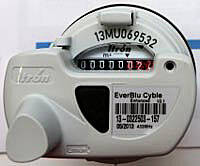 By Catherine Ketch
IRISH Water has confirmed that additional works carried out at a Macroom housing estate were due to issues with the 'standard of workmanship'.
Residents at The Glenties in Macroom were surprised when workers returned to the estate last week removing concrete which had been poured following the installation of water meters about a month ago.
Some 19 concrete casings, all on one row of houses, were removed on Monday with repair work carried out on Saturday.
Former Macroom councillor Pat Melia – a resident on the estate – was surprised when men with kango hammers arrived just weeks after the work was completed. When he questioned the workers he was told the concrete had to be removed as it was 'substandard'.
'That day they broke out all the concrete casings and because of the weather they came back on the Saturday and put the new concrete in,' he said.
Mr Melia said that during the week the hoardings were blowing around the street during high winds.
Irish Water says the issues were discovered during an audit which was part of a strict auditing programme carried out frequently by a team of field inspectors reviewing the quality of the work carried out by the contractor.
'If audits show that the works are not up to this standard, then the contractor must rectify at his own cost,' Irish Water said.
Irish Water stated that J Murphy & Sons have the contract to install meters in the West and South West regions which includes Cork, Kerry, Limerick, Clare, North Tipperary & Galway.
Irish Water says it attempts to carry out the works with a minimum of inconvenience to residents but that unavoidable disruption is kept to a minimum.
They say they ensure safe pedestrian access from homes during the works and that a pedestrian route is provided where footpaths are closed.
Irish Water apologised for inconvenience as a result of the additional works.
Mr Melia, who does not have an issue with paying for water per se said, however, that at the moment they were paying for water they couldn't drink.
'I never drink the water here. I wouldn't give that water to the children. You couldn't drink it,' he said.
Members of the public can also report any issues during the works directly to Irish Water on 1800 278 278.
When contacted, Murphy & Sons declined to comment.