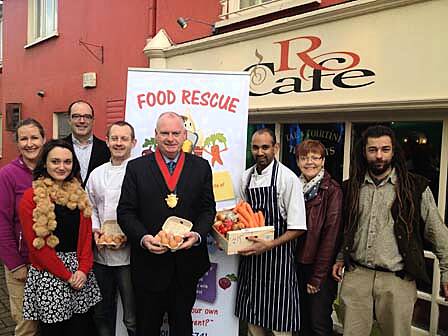 IT is said that there is no such thing as a free lunch, but that is not the case in the West Cork town of Clonakilty today.
Members of the Clonakilty Food Rescue collective yesterday co-ordinated the collection from local supermarkets, including Scally's SuperValu and Harte's Spar, of perishable foods whose 'best before' dates have reached or are near expiry and, while they cannot be legally sold, they are still in perfect condition to consume.
Rather than these items being dumped at a cost to the businesses involved, the foods are donated to the local group who in turn use them as ingredients to cook meals which are then consumed free of charge.
The chefs – Adam Medcalfe of Inchydoney Lodge and Spa and Richy Virishwamey, of Richy's Restaurant and Bistro – have chosen the ingredients from the 'rescued' food and are cooking them for Sunday lunch today, which will be served free to members of the public from 12.30pm at O'Donovan's Hotel.
The above photo by Willow Liao shows representatives of the groups involved in the Clonakilty Food Rescue project with some of the food collected for preparation for today's event – from left – Kerry Liao (Clonakilty GIY); Isobel Towse (VOICE and main co-ordinator); Xavier Dubuisson (Sustainable Clonakilty); Adam Medcalfe, head chef at Inchydoney Lodge and Spa; Cionnaith Ó Súilleabháin (Deputy Mayor of Clonakilty); Richy Virishwamey, owner Richy's Restaurant and Bistro; Catherine O'Connor (chairperson, Clonakilty Tidy Towns) and Istvan Mulkerky (Clonakilty Branch Out).