IRISH family holidays have always been a bit 'hit or miss' – with their success often tied in with the weather. Until now.
IRISH family holidays have always been a bit 'hit or miss' – with their success often tied in with the weather. Until now.
The opening of Center Parcs in Ballymahon in Co Longford last month has brought a whole new option for parents weary from the stress of chaotic airports and baggage limits.
Now you can load up the family wagon, head north and not even have to consult a weather app because at Ireland's newest resort, the weather really doesn't matter.
The 400-acre wooded park, just over four hours' drive from West Cork, offers over 100 activities, many of them indoors, with everything on-site needed to enjoy a family break.
The best thing about the Center Parcs experience is that, like it or not, you are forced to walk or cycle everywhere. With the exception of arrival and departure days, cars are not allowed so you arrive, check in at the gate, unpack your car at your lodge, return to the gate, park your car, and pick up your bikes (or bring your own).
The Centre Parc bikes are good value because they encourage you to use this healthy transport to negotiate the many paths between the lodges, the village square, and the activities.
They have bikes of all shapes and sizes, with stabilisers or trailers for the smallies, and even mobility scooters for grannies and grandads. Once they got the hang of the signposting and the bikes, our three were zipping around the park, and requests to return to the lodge for a forgotten bag or money was no trouble at all – they volunteered every time.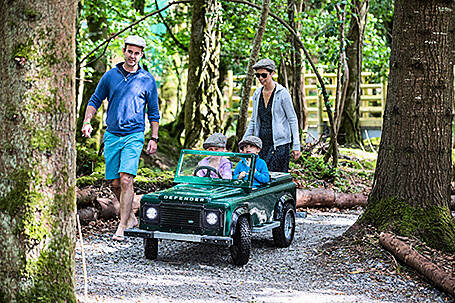 None of the activities we booked were more than a five-minute bike ride from any location so 'running late' for an appointment just meant zipping a little bit faster between venues. And while the weather for our stay was very pleasant, it wouldn't have mattered too much, as most of our activities were inside.
The sports centre which houses the bowling alleys also houses tennis courts, pool and snooker tables, climbing walls, an arts and crafts room, a crèche, a sports bar and a large coffee shop.
Across the tidy village square – not unlike the plaza at Dundrum Town Centre – is the very impressive Subtropical Swimming Paradise building, at a constant 29.5 degrees Celsius.
Inside there is a large wave pool to replicate the seaside, a wonderful pirates' area for parents and toddlers, with appropriately modest water slides, and three large slides for the more adventurous, and taller, patrons!
But the highlight of the weekend for us was the Wild Water Rapids (pictured, below). The water babies in our group just couldn't get enough of this white-knuckle ride that seems to go on forever, on a slide that slinks around the outside of the building with several mini 'rapids' to challenge even the most daring swimmers.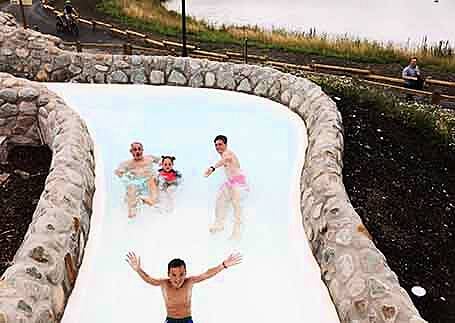 In one afternoon, we made the climb upstairs six times, to enjoy the rough ride back down. It's not for the faint-hearted, but it's a great way to get the adrenaline flowing and build up an appetite for one of the themed restaurants you can choose for dinner. The four large restaurants have cuisines ranging from Italian, to Indian, to an American diner and an Irish eaterie.
All offer good choices across all age-groups and there are also a few smaller cafés for lunch and coffee breaks. There is also a well-stocked supermarket, a sports shop, gift shops and a delicious sweet shop.
We found a sharp-shooter amongst our group when we took part in an hour of clay pigeon shooting in the outdoor activity area – but the shooters are in a covered area so, again, unless the weather is particularly bad, this is another option for a typical Irish summer. There are also plenty of outdoor activities if the weather holds, like boating, kayaking, rowing and the segway tours and zip wires.
The older girls in our group were thrilled with our three-hour booking for the spa area. The AquaSana spa is Ireland's largest and features four spa zones and 21 different spa experiences, including an outdoor pool and hot tubs, and is also a wonderful way to unwind alone, if you can manage to sneak away yourself.
There is also a very smart healthy café here and on-site therapists offering a huge variety of treatments for the over 16s, male and female. Every building has a designated bike park, so you can just zip right up and be back home within minutes for a post-treatment snooze. The lodges themselves are equipped to about four-star quality, with top-of-the-range appliances, showers, bed linen and flat screen TVs.
They also have generous patios with dining furniture inside and out, a barbecue area and bike parking. There has already been some criticism of the cost of a break in this rural part of Co Longford, but quality doesn't come cheap.
However, if you want to test the centre for a mini holiday, our advice is to go off-peak, stock up for plenty of home dining and only book one or two activities per day. You could easily while away several hours in the Subtropical Swimming Paradise, which is included in your stay, and three hours in the spa is reasonably priced. Of course, walking or hiking through the pretty forest costs nothing.
And you don't need to bring the kiddies, either – between the spa, the swimming, the bowling and the bars, it's a great location for a couples or girlie weekend too. As we were checking out, I heard one young toddler telling his mum he was refusing to go, and if she insisted, he was going to 'break back in'. High praise, indeed!
Below: The O'Sullivans from Bantry enjoying one of the first weeks at Center Parcs.