Siobhan Cronin is The Southern Star's editor. She's also an avid sea swimmer and in her regular blog 'From A to Sea' she documents her sea swimming journey. So get the wetsuit on, dive in and join her on her aquatic adventures
***
HERE we are in March already and we can really start to see the mornings getting brighter which means better opportunities for the pre-work swim.
The only problem is, the water temperature is pretty much at its coldest about now, just before it starts its upward curve back to the scientific description of 'almost bearable'!
I took a dip last Saturday afternoon and I think it was the coolest yet.
I don't have one of those fancy thermometers that many avid cold water swimmers bring around with them, but I reckon we were certainly in single figures territory.
Still, as I always say, if you have the right gear, it should make little difference.
The only part of my 'being' that I expose is about two inches of my face from my cheekbones to my neck.
My trick for combatting that tiny element of 'cold face', as I call it, is to breathe out quite vigorously and animatedly for the first two or three minutes when my head makes contact with the water which, strange as it may seem, does actually help.
And, remember, under the water, nobody can see your silly expressions. Except maybe a bemused crab or seal.
But even with gloves on, I can really only last about 40 minutes in the water before my fingers start to get cold, and that's a good indicator for me that it's time to start making my way back to shore.
Saturday's swim was just 1.2km and I am a very slow swimmer, so that was just over the 40-minute mark. Of course, that includes a lot of faffing around too, adjusting my goggles and stopping to enjoy the view.
Living in West Cork, with so many stunning swimming locations, it's a real crime not to stop and enjoy the scenery during a swim. It's one of the great benefits I discovered when I learned to confidently tread water and, of course, with a good swimming wetsuit, you are so well supported that treading water is a breeze anyway.
The safety buoys that you should have with you are also useful for dawdling and sometimes I rest my head on mine like a glorious pillow and just look up at the sky and float. You do need pretty calm conditions to be able to enjoy it with any great comfort, but I highly recommend it when the sea is co-operating!
Those buoys are also handy if you are 'hanging about' chatting with the guys, which we often do in summer when we find a particularly sweet spot on our watery get-togethers.
Just beware: your voice travels much further along the water! I have heard some strange conversations floating back to shore from yappy swimmers who thought they were far from the madding crowd!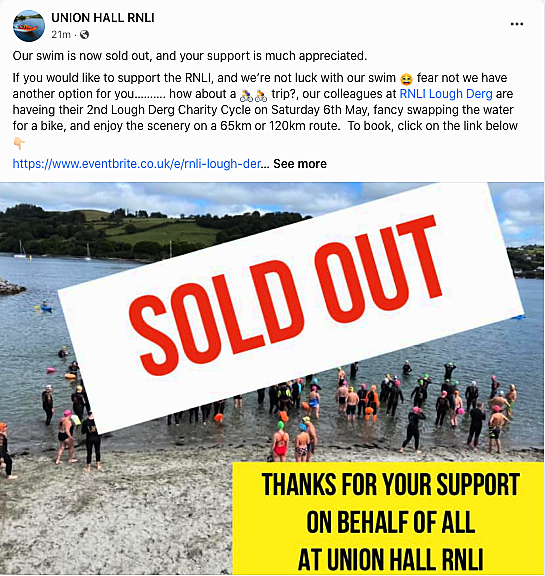 Those of you who want to challenge yourselves this year with some organised swims, or do love the social aspect of them – which is often the best part – should start planning your weekends now.
Tickets for the always popular Union Hall RNLI swim, which this year takes place on Sunday July 30th, sold out almost as soon as they were advertised, on Wednesday.
It's the first of many that will be coming down the tracks before you know it. Then there is the iconic Galley Head 10km swim that can be done in one impressive go, or as a relay with friends, if you can find a boat to help you out. Those tickets are not on sale yet, but the 'save the date' reminder was doing the rounds like wildfire this week, so there is bound to be big interest in that one, too.
All these events sell out in minutes of going up online, so make sure to set reminders on your phone if you're interested. Sea swimming has become a massive business in Ireland in recent years, and many keen swimmers spend the summer months travelling all around the coast and some inland lakes and rivers, competing in these wonderful events. Most of them are not races, they are just for enjoyment, but some – like the brilliant Great Fjord Swim in Killary harbour on the Galway/Mayo border – will give you your time anyway, thanks to a little chip in your supplied swim hat.
These events are usual charity fundraisers and also wonderful bonding sessions between like-minded water babies. The before and after analyses make them really special occasions and the sense of achievement is worth all the anxiety.
Keep an eye on the Facebook page for more.
Or just google 'open water swimming events' near you.
See you next month!
Read Siobhan's previous From A to Sea post here.
You can contact Siobhan at [email protected].